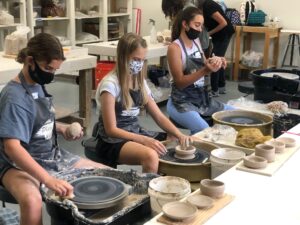 NEWS RELEASE
December 9, 2021
For immediate release
Media contact: Cara Scarola Hansen
Center for Child Counseling Public Relations Counsel
cara@yourmissionmarketing.com
Art therapy for LGBTQ+ teens launching January 2022
Center for Child Counseling (CFCC) is teaming up with Lighthouse ArtCenter to offer weekly group art therapy activities for tweens and teens to support their mental health, peer relationships, and overall well-being. The purpose of this program is to increase feelings of community and connectedness, build resilience and coping skills, and decrease feelings associated with anxiety, depression, loneliness, and/or stress. The program will begin with a free, eight-week series for LGBTQ+ middle school youth beginning January 4, 2022.
Chief Executive Officer of CFCC, Renée Layman, chose to begin with LGBTQ+ teens "because there is a need for every teenager, regardless of sexual orientation and identification, to feel support and accepted by both their peers and adults, and there's a critical gap in these services in the northern county." 
The group will focus on exploring and promoting LGBTQ+ well-being while engaging in art using mixed media. Each weekly session provides therapeutic art activities, ranging from painting to pottery, facilitated by both a Center for Child Counseling mental health therapist and a Lighthouse ArtCenter art instructor. At the end of each group cohort, participants will receive their own Art and Mindfulness Kit to promote continued use of the skills and techniques learned during the group sessions. 
Play Therapy has been the foundation of CFCC's work for the last 22 years, underlying all the interventions used to help children and teens work through trauma, loss, grief, and other circumstances that impact mental health and well-being. Art is a type of play that requires imagination, creativity, and opportunities for exploration and expression beyond one's physical surroundings. Center for Child Counseling and Lighthouse ArtCenter look forward to adding more group art therapy to the 2022 calendar in the near future. 
"We are seeing significant increases in anxiety and depression in teens; so, as an organization, we are looking at ways to provide early intervention and support in addition to the treatment services we already provide. We know that Art Therapy works and are thrilled about this partnership with Lighthouse ArtCenter as a way to reach and help more adolescents in our community," stated Layman.
Jeni Licata, executive director of Lighthouse ArtCenter added, "Our community needs more programs that support the mental health and well-being of young people. We are grateful and excited to collaborate with Center for Child Counseling to provide such a valuable program." 
The LGBTQ+ art therapy sessions will be on Tuesdays from 6-8 PM, January 4 – February 22, 2022, at the Lighthouse ArtCenter at 373 Tequesta Drive, Tequesta. Due to limited space, pre-registration is required and participants are asked to commit to attending each of the eight sessions.
For more information or to register for the LGBTQ+ art therapy program, visit: www.centerforchildcounseling.org/artclub. 
This partnership is supported with support from the Max & Marjorie Fisher Foundation.
About Center for Child Counseling
Since 1999, Center for Child Counseling has been building the foundation for playful, healthful, and hopeful living for children and families in Palm Beach County. Its services focus on preventing and healing the effects of adverse experiences and toxic stress on children, promoting resiliency and healthy family, school, and community relationships. Twitter: @ChildCounselPBC Facebook: @CenterforChildCounseling Instagram: @childcounselpbc
About Lighthouse ArtCenter
Lighthouse ArtCenter Gallery & School of Art is 501c(3) not-for-profit founded in 1964 by eight artists and Christopher Norton. The ArtCenter is dedicated to the visual arts whose mission is to inspire, engage and connect our community through a vibrant school of art, unique exhibitions, and diverse special events. The center has grown into a three-building campus consisting of a Gallery & 2D Studio, 3D Studio, and a Jewelry & Textile Studio. Supported by memberships, tuition, grants, and donations, Lighthouse ArtCenter serves over 20,000 visitors, 3,000 students, 45 faculty members, 400 summer art campers, and a comprehensive outreach program to benefit under-served populations. For more information visit https://www.lighthousearts.org.
Facebook: @lighthousearts.org Instagram: @lighthousearts Twitter: @LighthouseArtC 
###