At the Center for Child Counseling, we provide an array of therapeutic services to support children, their families, and caregivers.
We provide counseling and support for children and families impacted by everyday challenges, difficulties adjusting to life's changes, and adverse experiences that impact healthy development and growth.
These experiences could include physical abuse, sexual abuse, violence, divorce, homelessness, and traumatic experiences including medical trauma. 
Our expertise and programs are grounded in the latest research about Infant and Early Childhood Mental Health.
Our therapists and care coordinators are passionate, highly trained professionals who are here to help. Have a question? Contact us today at 561-244-9499 ext. 2 for a free phone consultation.
Our Programs that Serve Children and Families:
Services and Interventions
 Mental Health Services 
In additional to general mental health concerns, our specialties include:
Trauma 
Grief and Loss
Attachment Issues
Perinatal and Postpartum Depression
Infant and Early Childhood Mental Health
We uses an array of therapeutic techniques that are considered best practice or 'evidence-based' - meaning they have been proven effective.
Treatment Modalities
Play Therapy 
Play is to the child what verbal communication is to the adult, hence it is the most effective vehicle through which adults can understand and guide children. 
Through play, children learn about their world, understand how things work, express feelings and thoughts, and develop new physical, cognitive, and social skills.
Toys and play are used instead of words to express the same feelings that adults have but which young children usually cannot express verbally. Through play, children work out their problems and conflicts, increase feelings of self -worth and self-acceptance through a relationship with the therapist who models the core conditions for healthy relationships.
Parents are often incorporated into play sessions to enhance the parent-child relationship or work on setting limits and parenting skills.
For children who have experienced trauma, the therapist understands the purpose of the child's play in its relationship to past childhood events, and connection to current feelings and behavior exhibited outside of the playroom - at home and school. Learn more at the Association for Play Therapy.
Children express themselves more easily and completely through their play. Child-centered play therapy gives young children a safe nonjudgmental place to express their thoughts and feelings. In the playroom, toys, games, and activities are used like words. Children are able to develop problem-solving skills, assume responsibility, practice self-control, rehearse experiences, engage in self-discovery, develop communication and social skills, and build relationships. Play Therapy allows children the opportunity to work through, heal, and move past the difficulties in their young lives
Filial Therapy: This evidenced- based intervention is designed to improve parent/child relationship. The parent is taught non-directive play therapy skills to use with their child both in therapy and at home. 
Child-Parent Psychotherapy: Another evidence-based intervention, with the primary goal being to support and strengthen the relationship between a child and parent/caregiver in order to restore the child's sense of safety, attachment, and appropriate affect. CPP helps children who have experienced trauma, helping them regain their sense of safety and normalcy.
Trauma-Focused Cognitive Behavioral Therapy: TF-CBT is used with children who have experienced a wide array of traumatic experiences, including exposure to domestic violence and traumatic loss. 
Cognitive-Behavioral Therapy: Clients understand the thoughts and feelings that influence behaviors. CBT is commonly used to treat a wide range of disorders including phobias, depression, and anxiety.
Triple P: Positive Parenting Program is an evidence-based parenting and family support system designed to prevent – as well as treat – behavioral and emotional problems in children. It aims to prevent problems in the family, school and community before they arise and to create family environments that encourage children to realize their potential. Triple P can be used with children up to the age of 12. 
Think:Kids: This Collaborative Problem Solving (CPS) model helps children with behavioral challenges. Through training, support, and clinical services, we promote the understanding that challenging kids lack the skill, not the will, to behave well.
EMDR: Eye Movement Desensitization and Reprocessing (EMDR) Therapy is one of the most effective forms of trauma treatment for children and adults.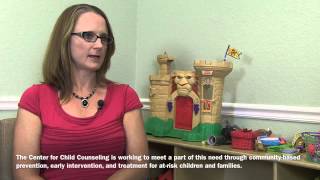 Center for Child Counseling Meeting Mental Health Needs in Palm Beach County
Shannon-Fox-Levine, MD discusses the need for screening and early intervention for children. She also discusses the critical need for quality mental health services in Palm Beach County and how the Center for Child Counseling is working to meet this need.
Why Young Children?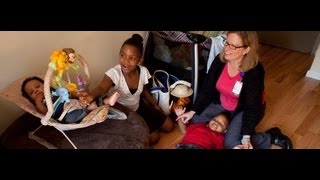 An Innovative Approach to Preventing Mental Health Problems in Children
Stress in the environment is every bit as dangerous to the brain as chemical toxins, especially for children. Child First is a unique program currently being implemented in Palm Beach County to address toxic stress in young children.