It's Easy to Make a Difference in a Child's Life
Chris' Story

At the age of four, Chris was living in a home where his father was extremely violent. For most of his short life, Chris witnessed repeated incidents of domestic violence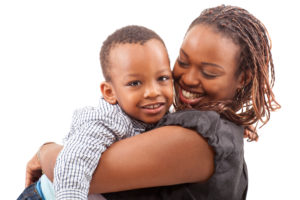 against his mom and the arrest of his father. He was was referred for counseling by his preschool to address extreme behavioral issues in the classroom and concerns about his fascination with guns and violence. Teachers reported that Chris talked about guns all the time, made guns out of blocks, and put his play gun to the heads of other children, threatening to kill them.
Over the course of six months, Chris came to the Play Therapy room 2-3 times a week, focusing on helping him express and work through the trauma. Chris' behaviors have shifted dramatically. He is now making positive choices, using positive words, and has become a role model in the classroom.
Chris' success is possible because of the generosity of individuals like you. Please DONATE TODAY to make a difference for a young child like Chris.
A Critical Period for Intervention
You May be Asking...Why Focus on Young Children?
Childhood trauma is not something that you just get over as you grow up. Repeated stress of abuse, neglect, and parents struggling with mental health or substance abuse issues has real, concrete effects on the developing brain. This unfolds across a lifetime, to the point where those who have experienced high levels of trauma not only develop mental health concerns, they higher risk for physical health issues.
At the Center for Child Counseling, we are committed to working with our community partners to equal the odds for young children impacted by toxic stress, including exposure to violence, trauma, and abuse.  This work has been the foundation of our mission since 1999. 
Join us in our mission to support the youngest, most vulnerable children in Palm Beach County today.
Ways to Give Today
Visit our Donate Online page for giving options, including designation of funds and tribute gifts. Credit card donations may also be called in at 561-244-9499.
Sign-up for our e-newsletter to learn about upcoming events and volunteer opportunities.
Visit our Program and Volunteer pages to learn about our programs and how you can support young children in our community through advocacy and volunteerism.
Share our website and social media pages with friends and colleagues to help promote our mission in Palm Beach County. It's as easy as clicking the buttons on the top right of the page.
Corporate Matching Gifts
You can double or even triple the value of your contribution by taking advantage of your employer's matching gifts program. Consult your personnel office to get specific details and obtain a matching gift form.
Planed Giving and Bequests
You can help the Center for Child Counseling continue our mission of supporting the youngest, most vulnerable children in our community through planned giving and bequests.
For the Center for Child Counseling, a charitable bequest is the easiest and best way to make a gift. By means of your will or other estate plan, you can name the Center for Child Counseling as the beneficiary of a portion of your estate. A bequest allows you to honor a loved one while providing critical support to young children in our community.
Support Young Children in Palm Beach County Today.
Your donation will make a critical difference for children in our community.
Donate Today
Contributions benefit the Center for Child Counseling, Inc. a not for profit organization. A COPY OF THE OFFICIAL REGISTRATION AND FINANCIAL INFORMATION OF THE CENTER FOR CHILD COUNSELING, INC., CH21286, MAY BE OBTAINED FROM THE DIVISION OF CONSUMER SERVICES AT www.800helpfla.com OR BY CALLING 1-800-435-7352. REGISTRATION DOES NOT IMPLY ENDORSEMENT, APPROVAL, OR RECOMMENDATION BY THE STATE. The Center for Child Counseling, Inc. receives 100% of each contribution.