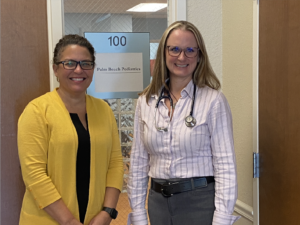 NEWS RELEASE
October 11, 2021
For immediate release
Media contact: Cara Scarola Hansen
Center for Child Counseling Public Relations Counsel
cara@yourmissionmarketing.com
 Integrating Mental Health into Primary Pediatric Care
Partnership between Center for Child Counseling and Palm Beach Pediatrics addresses the whole child to serve as best practice model of care

Center for Child Counseling (CFCC) in collaboration with Palm Beach Pediatrics (PBP) announce their partnership of integrating mental health care into primary pediatric care which began Monday, October 4, 2021. 
An estimated one in five children will experience a mental health disorder at some point in their lives. Of those children diagnosed with mental health disorders, 75 percent of children are currently seen in primary care settings, demonstrating the growing role primary care settings have in addressing mental health issues. At the same time, it is estimated that 75-80 percent of children in need of mental health services do not receive them.

Research has shown that unaddressed mental health problems among children can lead to lower educational achievement, greater involvement with the criminal justice system, and poor health and social outcomes overall. 
A recent Centers for Disease Control and Prevention (CDC) study reported a 31% increase in the proportion of mental health–related emergency department visits for youth ages 12–17 years during 2020 as compared to 2019. The uncertainty, anxiety, isolation, and economic insecurity from the COVID-19 pandemic are traumatic experiences that, if not addressed, can cause long-term health consequences. Youth anxiety, depression, and suicide rates were at an all-time high before the pandemic. Social isolation, fear, and stress have amplified these issues and are impacting children's and teen's mental health.
The pandemic is adding a huge increase in the need for pediatric mental health services. There are critical shortages in health professionals to meet the current and increasing demand for services. 
"Directly supporting trauma-informed and responsive approaches across systems that serve children and families, particularly pediatric primary care, can and will mitigate the negative impacts of overwhelming stress and help them thrive now and beyond the pandemic," stated Renée Layman, chief executive officer of Center for Child Counseling.

For children and adolescents, many of the consequences of the pandemic will not be immediately visible, but they could be lifelong without immediate action to support their mental health and well-being. 
According to the AAP: "Pediatric clinicians are on the front lines of caring for children and adolescents and, thus, have the greatest potential for early identification of and response to childhood trauma. Data indicate that, although pediatric providers intuitively understand the negative effects of trauma, they report a lack of knowledge, time, and resources as major barriers to providing trauma-informed care. Yet, experts believe that the complete assessment of child and adolescent behavioral, developmental, emotional, and physical health requires consideration of trauma as part of the differential diagnosis to improve diagnostic accuracy and appropriateness of care."
Through this partnership, Center for Child Counseling, a local nonprofit, is embedding its services within Palm Beach Pediatrics to deliver an array of prevention, early intervention, and mental health services within the primary care setting. 
Over the past twenty-two years, Center for Child Counseling has used an integration model for services, locating CFCC staff within childcare centers, schools, and organizations serving children. This approach will now be used to fully integrate into the primary pediatric care setting for the first time. A CFCC care coordinator and therapist will be embedded at PBP, working seamlessly as a part of the PBP team to provide mental health services, consultation, crisis intervention, referral and triage, education, and resources for patients, families, and staff. 
Research shows that this holistic approach supports overall wellness, including short and long-term health outcomes.
According to Dr. Shannon Fox-Levine of Palm Beach Pediatrics, "This collaboration will promote a best practice model of care that addresses the whole child, supporting social-emotional, cognitive, and physical development to ensure that children, adolescents, and families receive immediate access to mental health services, education, and resources."
This pediatric integration model and CFCC services to those who are not insured or under-insured are made possible thanks to grant funding through local funders such as Palm Beach Community Services, Quantum Foundation, Florida Blue Foundation, Children's Services Council of Palm Beach County, Palm Beach County's Youth Services Department, and Health Care District of Palm Beach County. 
About Center for Child Counseling
Since 1999, Center for Child Counseling has been building the foundation for playful, healthful, and hopeful living for children and families in Palm Beach County. Its services focus on preventing and healing the effects of adverse experiences and toxic stress on children, promoting resiliency and healthy family, school, and community relationships. 
For more information, visit centerforchildcounseling.org. Twitter: @ChildCounselPBC Facebook: @CenterforChildCounseling Instagram: @childcounselpbc
About Palm Beach Pediatrics
Palm Beach Pediatrics is one of the largest providers of primary pediatric care in Palm Beach County. With three locations spread throughout Palm Beach County (Royal Palm Beach, West Palm Beach, and Boynton Beach), they served 16,000 patients in 2020 and currently have 19,300 active patients. Palm Beach Pediatrics is committed to meeting the physical, emotional, and psychological needs of the children and young adults of Palm Beach County by providing the highest quality of care with compassion and honesty. 
For more information, visit pbpediatrics.com. 
###