NEWS RELEASE
May 2, 2023
For immediate release
Media contact: Cara Scarola Hansen
Center for Child Counseling Public Relations Counsel
cara@yourmissionmarketing.com 
Center for Child Counseling Receives Grant to Prevent and Heal Child Sexual Abuse
Impact the Palm Beaches awards $100,000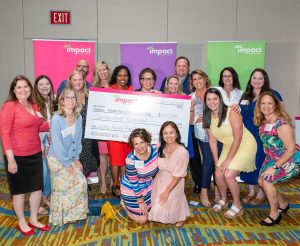 (Palm Beach Gardens, FL)–Impact the Palm Beaches recently awarded a $100,000 grant to Center for Child Counseling (CFCC) for keeping kids safe by preventing and healing child sexual abuse. 
Child sexual abuse is a leading health concern facing children today. About one in 10 children will be sexually abused before they turn 18. Of those children who are sexually abused, 90% are abused by someone they know and trust. 
To tackle this crisis, in October of 2022, Center for Child Counseling officially merged with KidSafe Foundation–an organization with more than 13 years of expertise in education of sexual abuse. As a program now under the CFCC umbrella, KidSafe is expanding to provide more education to prevent child sexual abuse. 
With the support of the Impact grant, Center for Child Counseling will provide 14 Palm Beach County schools with Stay KidSafe©–an age-appropriate curriculum that simplifies the sensitive topic of child sexual abuse and trafficking prevention with a fun, interactive program that teaches children protective skills from a place of empowerment, not fear. The program will give children concrete tools and skills to stay safe. Children will  learn to recognize their feelings, go to their "safe adults," and speak assertively when they feel uncomfortable. The training will extend to parents, guardians, and teachers–making them better vanguards of safety for children. Adults will learn how to: communicate safety awareness and provide skills to children; build their capacity to spot the signs of sexual abuse; and have open conversations about safety. This program implementation will impact over 7,000 children and over 4,000 adults in the county.
"Thanks to this Impact award, we are tackling the public health crisis of child sexual abuse in Palm Beach County with prevention and early intervention, because every child deserves to grow up feeling safe. We believe that every child must have the KidSafe program. Our dream is big but Impact the Palm Beaches is helping us take a major step to make it a reality," stated Renée Layman, CEO of CFCC.
The KidSafe program is also available to the more than 7,500 children served annually through CFCC's clinical programs. Furthermore, it will be integrated into CFCC's Childcare and Community Social-Emotional Wellness Program–funded by Impact the Palm Beaches in 2019–which is provided onsite in 30 partner childcare centers and elementary schools. Through a collaborative agreement with the School District of Palm Beach County, the curriculum will be available to every elementary school in Palm Beach County at no charge. 
For more information on Center for Child Counseling's KidSafe program, visit www.centerforchildcounseling.org/kidsafe.  
About Center for Child Counseling:
Center for Child Counseling has been building the foundation for playful, healthful, and hopeful living for children and families in Palm Beach County since 1999. Its services focus on preventing and healing the effects of adverse experiences and toxic stress on children, promoting resiliency and healthy family, school, and community relationships. As of October 2022, KidSafe now operates under Center for Child Counseling as the two entities are now stronger together in their education and prevention of child sexual abuse and childhood trauma. www.centerforchildcounseling.org Twitter: @ChildCounselPBC Facebook: @CenterforChildCounseling Instagram: @childcounselpbc
PHOTO IDs:
Photo credit: Capehart Photography
142: Center for Child Counseling leadership team and members of the board of directors.
148: Impact President Lisa LaFrance, CFCC Chair of the Board of Directors Dr. Eugenia Millender, CFCC CEO Renée Layman, CFCC Treasurer and Secretary Jeffrey Petrone, Impact Immediate Past President, Lauren Sterlacci.
###