NEWS RELEASE
February 14, 2023
For immediate release
Media contact: Cara Scarola Hansen
Center for Child Counseling Public Relations Counsel
Breakfast rallies community members to 'Lead the Fight' against ACEs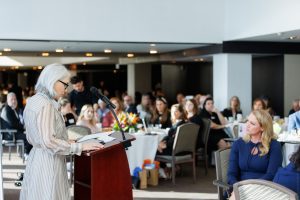 "We do not have to wait for a child to fall apart to help." That was the resounding message in Center for Child Counseling's 2023 Lead the Fight kick-off event that took place on Thursday, February 9 at Tideline Ocean Resort & Spa. Co-hosted with The Haley Foundation and emceed by WPTV Channel 5's Ashley Glass, the 'From ACEs to Safety' breakfast served as a springboard for important conversations with business, philanthropic, and civic leaders to address adverse childhood experiences (ACEs) and childhood trauma.

120 by-special-invitation-only attendees heard first-hand how feeling safe is essential to positively addressing ACEs and were inspired to help more children feel safe and loved in a challenging world. The breakfast featured: Dr. Jon Sperry, associate professor in the clinical mental health counseling program at Lynn University, and Bailey Hughes, foster/adoptive mother and advocate leading the fight against ACEs.
Center for Child Counseling CEO Renée Layman explained how ACEs impact the health and wellness of our children, families, and entire community. The big issues with which our society is grappling–violence, addiction, child abuse–all have their roots in childhood trauma and ACEs. In 2022, the Center's clinical programs supported over 7,000 children, many facing unspeakable abuse and trauma. Today, 674 kids are on the agency's waitlist for services.

Layman emphasized that with limited funding, staffing, and resources, mental health professionals "can't do it all." Rather than wait for the child to fall apart emotionally and our societal systems to respond with monies first spent on prosecution and jail, she spoke of prevention with community involvement–"each and every one of us."
Action and solutions for prevention and early intervention include: utilizing a public health framework; providing free information and resources to parents, teachers, and other adults who raise or work with children; training adults on how to recognize and respond to trauma in children; integrating child mental health screenings and early intervention supports in schools and pediatric offices; fighting child sexual abuse and trafficking with lifesaving personal safety and trafficking prevention eduction; building trauma-informed communities.
"This work cannot be done alone. This work is fueled by individuals, businesses, and foundations who understand our entire success as a community depends on raising healthy children into adults who contribute to the greater workforce, economy, and quality of life for everyone," stated Layman.
In Dr. Sperry's engaging keynote address, he explained the global research he conducted in 2019. He traveled to four different continents interviewing therapists from 24 different countries about their perceived competence in providing trauma counseling. He found that the majority of participants reported being unequipped and underprepared to provide trauma counseling.

Given this very concerning reality, especially related to the prevalence of ACEs that has been identified in the trauma literature, Sperry praised Center for Child Counseling for the work they are doing in our community: "The really amazing part about what they are bringing to the community is that they are raising the bar of mental health by training the therapists, the teachers, the different community partners about these concepts."
Hughes, a former foster mother of 23, adoptive mother of four, and former special educator for the Palm Beach County School District, affirmed Sperry's sentiments regarding the role Center for Child Counseling is playing in Palm Beach County and beyond. In her testimonial, Hughes recounted her experience fostering and then adopting her daughters, Aria and Asia, and credited the Center for "saving our lives. Without the therapy and skills we gained as a family, our inability to cope with trauma would have stifled any hope for success for our children or our family as a whole."
Photo by @prizmaphotoShe conveyed the necessity of therapeutic intervention and the benefits of play therapy when parenting a child with extreme trauma. Hughes described her first experience in the playroom with Aria and her therapist where Aria chose "the most violent toys in the room to play with" and pretended to kill Hughes within the first two minutes into the session. 
"I laid dead on that floor while my child acted out an entire traumatic scene that no four-year-old could possibly have known unless they had witnessed it themselves." 
When the session ended that day, the therapist explained to Hughes that Aria was acting out her trauma because children often do not have the language or development to explain what happened to them. 
"I finally understood the purpose of play therapy…Eunice created a safe place for my daughter to display some of the most treacherous moments of her life. She built a connection that helped her know it was a judgment free zone, and Aria could do and say and be whoever or whatever she wanted to be in that room, and that she would be supported," Hughes explained.
Without a dry eye in the room, Hughes closed with, "We can all know better and do better. Our job, to ensure a future we all want to be a part of, is to safeguard our children."
Following the featured speakers, Haley called on the attendees in the room to join in leading the fight against ACEs by committing to taking action: become ACEs aware and informed through training; invest in early childhood development; join the Center's new Giving Circle; or send letters and information provided by the Center to policy makers urging them to drive supportive change. 
Center for Child Counseling, in conjunction with Leadership Palm Beach County Class of 2017, developed 'Lead the Fight' in 2016 to bring awareness to system leaders around fighting childhood adversity with advocacy and action. In 2021, the event was transformed into a virtual action series in response to the pandemic and the urgent need to move forward policies and practices that support children's mental health and resilience. Virtual conversations continued in 2022.
The 2023 Lead the Fight series will continue with monthly conversations and events through June, hosting nationally- and internationally-recognized experts on various topics. With great excitement, Layman closed the breakfast with the announcement that the next event will feature trauma and addiction expert and international best-selling author Dr. Gabor Maté. Kathy Leone, Vice Chairman of the Community Alliance of Palm Beach County, will chair the event at The Breakers. More information and registration will be available soon at www.centerforchildcounseling.org/leadthefight. 
Partnership sponsors who are leading the fight in making these important and necessary panel conversations possible include: The Haley Foundation, Lovelight Foundation, First Republic Bank, Lighthouse ArtCenter, Premier Pediatrics, Stephens & Stevens, Searcy Denney Scarola Barnhart Shipley, Florida Association for Infant Mental Health, The Journey Institute, SageView Advisory Group, and WPTV News Channel 5. 
The Center's Fighting ACEs initiative to build trauma-informed communities is made possible with the generous support of Quantum Foundation, Community Foundation for Palm Beach and Martin Counties, and private donors.
About Center for Child Counseling:
Center for Child Counseling has been building the foundation for playful, healthful, and hopeful living for children and families in Palm Beach County since 1999. Its services focus on preventing and healing the effects of adverse experiences and toxic stress on children, promoting resiliency and healthy family, school, and community relationships. As of October 2022, KidSafe Foundation now operates under Center for Child Counseling as the two entities are now stronger together in their education and prevention of child sexual abuse and childhood trauma.
www.centerforchildcounseling.org Twitter: @ChildCounselPBC Facebook: @CenterforChildCounseling Instagram: @childcounselpbc
PHOTO IDs:
Photo credit: Dario Maldonado, Prizma Photo
Click here to view photo album.
Click here to view the news release.
###