NEWS RELEASE
September 11, 2023
For immediate release
Media contact: Cara Scarola Hansen
Center for Child Counseling Public Relations Counsel
cara@yourmissionmarketing.com
Senator Harrell and Rep. Roth Present $300,000 in State Funding to Center for Child Counseling
Meeting the mental health crisis and staffing frontline responders.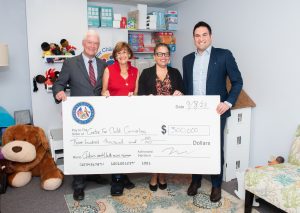 The data is alarming: In 2021, 41.5% of Palm Beach County high school students reported that they felt hopeless, and 20.7% of total high school students seriously contemplated suicide (PBC Youth Behavioral Health Survey). Florida Senator Gayle Harrell (District 31) and Florida Representative Rick Roth (District 94) presented a check for $300,000 to the Center for Child Counseling (CFCC) on Friday, September 8, 2023, in response to the children's mental health crisis.
In conjunction with the check presentation, there was a discussion related to how the appropriations will be used to mitigate the crisis. The Center serves around 7,000 children and families each year in Palm Beach County, and there is still a waitlist. The funding will directly address the extreme backlog of 800 children on average waiting for services from the Center. The project will build a department of frontline responders–mental health and program specialists–to immediately support children and adolescents waiting for care right now. The approach also focuses on building caregiver and community capacity to support children's mental health. 
According to the Center's CEO Renée Layman, "No child in crisis belongs on a waitlist when a parent or caregiver has reached out for help.
With this funding, mental health and program specialists will provide immediate triage and care for the children and families waiting for services from Center for Child Counseling. 
In Senator Harrell's address to the more than twenty mental health specialists and staff in the room, she emphasized the work the State of Florida is doing with respect to the resources allocated to our schools but recognized that the need of addressing children's mental health extends beyond the schools. 
"I think early intervention is absolutely the key, and the way to go…We need more mental health counselors. We need more therapists who are really frontline…We need therapists to do treatment and that is essential," stated Senator Harrell.
One in four children in Florida is experiencing a mental health or behavioral concern: "It is crucial that we address this crisis, for the immediate and long-term well-being and resilience of Florida's children and families," added Layman.
The Center has transformed the approach to mental health care–using a public health framework of prevention, early intervention, and treatment to address the current crisis and build capacity for the future. It includes tiered implementation of services that prevent adverse childhood experiences, provide early intervention to mitigate mental health concerns and trauma, and support children and families in crisis. Services are provided where children, adolescents, and families need them most–in-person (office, school, home, and community based) and virtual activities, including: mental health support groups and education; 1:1 mental health consultation for parents and adult caregivers; and a campaign to educate the wider community on how to support children's mental health and resilience. Prevention services include community and statewide education for parents and adult caregivers on specific mental health topics to build the ability of all adults to support children's mental health and well-being. 
Layman expressed her gratitude to both Senator Harrell and Rep. Roth, "We are so proud of this and so grateful to you for making this happen. This is a big dream that you're making a reality; so, thank you. For the kids that we're serving, it means everything." 
Senator Harrell is the Chair of the Senate Appropriations Committee on Health and Human Services, and Rep. Roth is a member of the House Appropriations Committee. 
About Center for Child Counseling
Since 1999, Center for Child Counseling has been building the foundation for playful, healthful, and hopeful living for children and families in Palm Beach County. Its services focus on preventing and healing the effects of adverse experiences and toxic stress on children, promoting resiliency and healthy family, school, and community relationships. For more information visit, centerforchildcounseling.org.
Twitter: @ChildCounselPBC Facebook: @CenterforChildCounseling Instagram: @childcounselpbc
PHOTO ID:
Photo credit: Tracey Benson Photography
(L-R) Florida Representative Rick Roth, Florida Senator Gayle Harrell, CEO of Center for Child Counseling Renée Layman, and lobbyist Matt Spritz stand with $300,000 check presented to the Center to help with the children's mental health crisis.
###