NEWS RELEASE
November 4, 2022
For immediate release
Media contact: Cara Scarola Hansen
Center for Child Counseling Public Relations Counsel
cara@yourmissionmarketing.com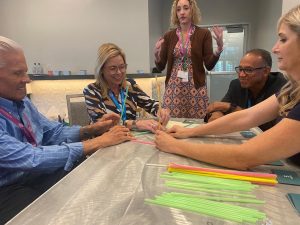 Boys & Girls Clubs Becoming Trauma-Informed and ACEs-Aware
Center for Child Counseling launches training and starts with the Board of Directors
As part of Center for Child Counseling's (CFCC) mission to build trauma-informed communities, the local nonprofit recently launched a training series with the Boys & Girls Clubs of Palm Beach County in their effort to become a trauma-informed organization.
According to Dr. Robert Block, former president of American Academy of Pediatrics, "Adverse Childhood Experiences (ACEs) are the single greatest unaddressed public health threat facing our nation today."
45% of U.S. children have at least one ACE; 10% have three or more. Research indicates a strong correlation between high ACE scores and health outcomes. Adults with four or more ACEs have five times the depression risk, ten times the intravenous drug use, and 12 times the suicide rate. On average, they die 20 years younger than those with no ACEs.
Research also shows ACEs are not destiny and there are pathways to healing and wellness through buffering relationships and effective, early intervention.
Promoting a trauma-informed workforce with demonstrated knowledge and skills is an important component to comprehensively addressing ACEs in communities and improving long-term health and wellness outcomes.
"For better or worse, we all bring our childhood experiences with us into our adult relationships. Unresolved adversity and trauma can have direct impacts. Stress can overload the ability to manage emotions, not only impacting interactions with children but also with colleagues. If you care about your staff burnout, turnover, and your bottom line, you need to care about ACEs," stated Renée Layman, CEO of Center for Child Counseling.
Through the Center's PACEs (Positive and Adverse Childhood Experiences) and Trauma-Informed Care Training, CFCC's CEO and designated leaders provide a customized training schedule to the organization being trained and begin with the CEO, Board of Directors, and leadership team. On Friday, October 28, 2022, CFCC started the training for the Boys & Girls Clubs with its 33-member Board of Directors.
A shared language and understanding from the CEO and throughout all levels of an organization promotes a culture that truly shifts mindsets–providing optimal support for staff that in turn promotes the resilience and wellbeing of children that comes from healthy child-caregiver relationships. It is critical that all adults are equipped with trauma-informed training, strategies, and skills to be able to have trauma-informed conversations with children, youth, and families about difficult things.
"We are most grateful to Renée and her amazing team for the work they are doing in our community and being a part of our recent board retreat as we laid the foundation for a better future at the Boys & Girls Clubs of Palm Beach County. We look forward to the continued training for all constituents of the Boys & Girls Clubs," expressed Jaene Miranda, CEO of Boys & Girls Clubs of Palm Beach County.
Next, CFCC will train the Boys & Girls Clubs' leadership team and then 400+ staff members. The 20 Boys & Girls Clubs throughout Palm Beach County serve more than 10,000 children ages 6-18.
This training is part of CFCC's overall goal of supporting child-serving organizations in becoming trauma-informed and has been funded through a grant from the Community Foundation of Palm Beach and Martin Counties to promote child and adolescent resilience and equity.
For more information on Center for Child Counseling and its PACEs and Trauma-Informed Care Training for childcare centers, schools, and organizations, visit: centerforchildcounseling.org/traumainformedcare.
###