Renée Layman Named "Executive of the Year" at the First Annual Hats Off Nonprofits Awards presented by Nonprofits First
West Palm Beach, FL (October 3, 2017) Center for Child Counseling's CEO, Renée Layman has been named Executive of the Year by Nonprofits First at their first annual Nonprofits First "Hats Off" awards event, held at the Harriet Himmel Theater at City Place in Downtown West Palm Beach.  A total of twenty-eight CEOs and Executive Directors were nominated from around Palm Beach County in this category.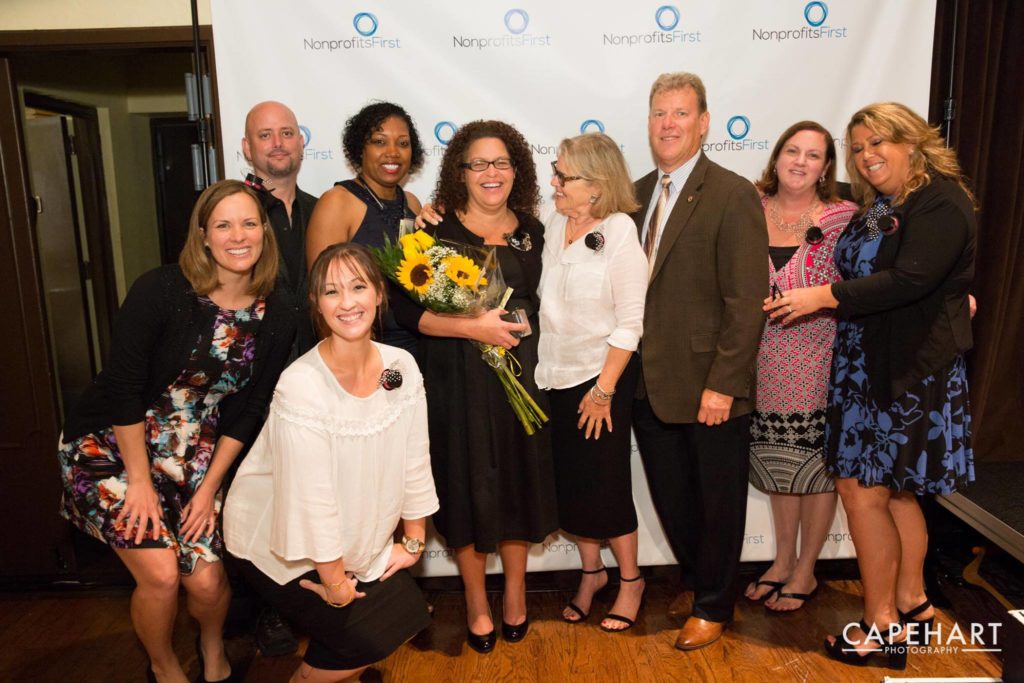 The award honored an executive "whose distinguished achievements have resulted in significant progress toward improving a community issue." They must also be recognized by their peers as a leader in the sector, demonstrating excellence in leadership and management, and inspiring others to achieve meaningful, measurable, and sustainable results. During her acceptance speech, Ms. Layman touched on the increased demand for the services that Center for Child Counseling provides to at-risk children in the Palm Beach County area: "Unfortunately, there's so much need in our community, so we continue to provide innovative and evidence-based programming to meet the needs . . . we love what we do."  Center for Child Counseling is filling critical gaps in the services for at-risk children in our community. Under her leadership over the past year, Center for Child Counseling has provided direct services for over 3,000 children – and trained over 3,500 professionals in the educational, medical, and childcare sectors.
Renée Layman has held a variety of leadership roles in her twenty-five year career in mental health in South Florida. She is a part of Leadership Florida's Cornerstone class of XXXVI, is the co-chair of the Florida Association for Infant Mental Health - Palm Beach and Martin County chapter, graduated from Leadership Palm Beach County Class of 2010 and was the co-chair for the Leadership Palm Beach County Engage program from 2014-2016. Renée is involved with a number of advisory committees in the Palm Beach County area and is on the board of the Nonprofit Chamber of Palm Beach County.
Jessica Cecere, CEO of Nonprofits First and fellow Leadership Grad, was pleased with the committee's decision to select Renée as the first recipient of this award stating, "I am very pleased and proud to have Renée Layman as Nonprofits First inaugural Hats-Off Nonprofit Award Honoree for Nonprofit Executive of the Year. Renée is an exemplary leader and nonprofit professional."