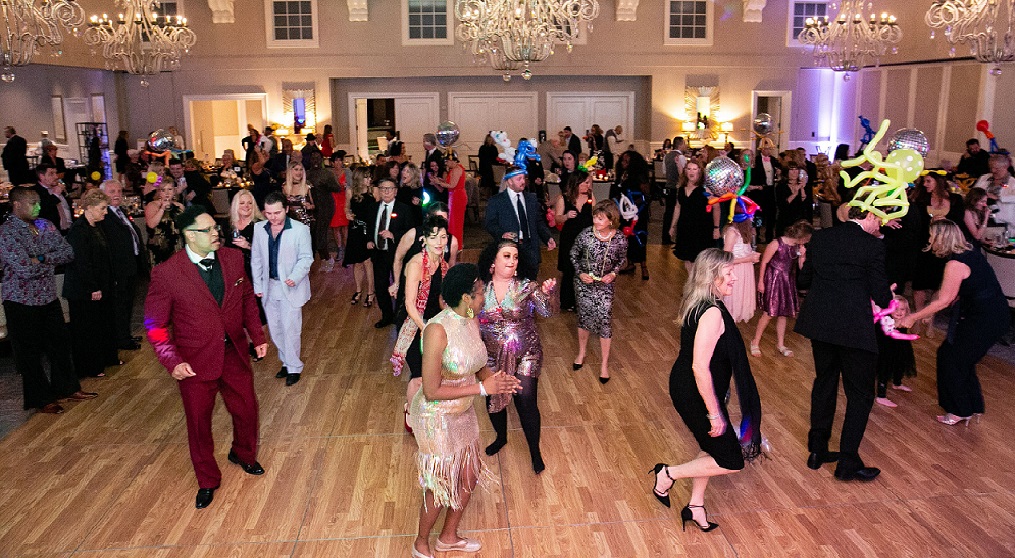 Center for Child Counseling's annual gala raises thousands of dollars to help children heal from trauma.
February 24: WEST PALM BEACH, Florida – A disco-themed extravaganza was held on Saturday, February 15th, 2020 when Center for Child Counseling (CfCC) hosted its 7th annual Black Tie & French Fries gala at the Club at Mirasol in Palm Beach Gardens. Attended by 210 friends and supporters of the organization, the event raised funds to support vital programs the organization provides in the community, which includes helping children and families affected by trauma and adversity.
Highlights of the event included bottomless supplies of French fries and sweet potato fries (a signature of this fun family evening), and a fully-staffed kids' room with games, face painting, and a magic show with elaborate balloon animals by Karl Koppertop. There was a performance of hoverboard dancing to 'Dancing Queen' by Kate Rundels, followed by a delicious dinner buffet. Disco dancing rounded off the evening.
The most touching point of the night came when a young client shared her story during a "Call to Heart" segment. The young woman credits the Center for Child Counseling with giving her the help she needed to heal after trauma and placement in foster care.
For the past 21 years Center for Child Counseling has been Palm Beach County's driving force in the fight against ACEs (Adverse Childhood Experiences) and the lifelong mental and physical health issues associated with them. Proceeds from the event and its fantastic silent auction of over 150 items (including a Trips of a Lifetime segment in partnership with AmFund, a trip in the Goodyear blimp, and a portrait session by Bradford Portraiture valued at $5,000) will help Center for Child Counseling with its direct services as well as supply the equipment and toys needed to fully implement their school-based mental health programs.