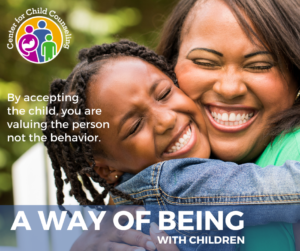 NEWS RELEASE
May 26, 2021
For immediate release
Media contact: Cara Scarola Hansen
Center for Child Counseling Public Relations Counsel
cara@yourmissionmarketing.com
561-632-6747 
Center for Child Counseling launches online training and public health campaign to transform adult caregivers 
A new way to simply 'be' around children and build a trauma-informed community
Center for Child Counseling recently launched "A Way of Being with Children: A Trauma-Informed Approach to Building Resilience." This online training for parents, teachers, childcare workers, or anyone who regularly interacts with children and families, along with a public health campaign, aim to build a more trauma-informed community so that children can grow up with adults who understand the impact of trauma and adversity and do not risk re-traumatizing children through their words or actions.
Being trauma-informed involves understanding, sensitivity, and a deep knowledge of how trauma can affect a child's growing brain and potentially result in lifelong physical and mental health implications.
The 5.5 hour online course, accompanied by a spiral-bound manual with over 80 pages of practical advice and technique-building exercises, introduces a new way for adults to simply "be" around children–a better way that can help bring families closer together and make the time spent with children happier and more fulfilling. Based on decades of research into childhood brain development and the expertise of countless childcare workers and professional therapists, "A Way of Being" aims to create family and school relationships where children feel accepted and parents and teachers feel empowered. 
Center for Child Counseling was founded in 1999 with the vision that every child will grow up feeling safe and nurtured in communities where they can thrive. CFFC's work started in Palm Beach County childcare centers, providing therapeutic support for young children experiencing adversity and trauma, while equipping their caregivers with effective practices for building social-emotional well-being and resilience. 
The Center's work has expanded beyond childcare centers to now working with children birth to age 18 in schools, the community, and the child welfare system. A primary goal is to help providers, educators, caregivers, and child-serving systems to shift their 'way of being' with children, families, and communities who have experienced adversity and trauma from a "What's wrong with you?" to a "What happened to you?" approach. Using a prevention and healing-centered lens, CFCC focuses on changing the systems and practices that keep adversity and trauma firmly in place. 
The science of early adversity proves that in the absence of protective relationships, toxic stress in childhood can change the architecture of the developing brain. Adverse childhood experiences (ACEs) impact everything–classroom behaviors, learning and comprehension, the ability to self-regulate–and can dramatically heighten the risk for future mental and physical health concerns. 
For over two decades, CFCC has worked in partnership with families and communities, interacting with children in their most natural state of being: when they are at play. "A Way of Being" was developed based on this work and research over the last twenty years–grounded in science, guided by the voices of the families helped, and founded on best-practice principles using a trauma-informed, racial-equity lens. 
"A Way of Being" represents a shift in working with children and each other. It provides the foundation for shifting everyday practice to support children's social-emotional well-being to build lifelong resilience. 
In conjunction with the online training, the Center has also launched a public health campaign on social media–including Facebook, Twitter, Instagram, LinkedIn and YouTube–promoting this new way of being. The campaign aims to build awareness and education of the positive ways that adults can interact with the children in their lives. 
"The goal is for all community members to understand and own the idea that we each have a stake and role in child and family wellbeing. Children have tremendous potential–which our society needs–and which we have a shared obligation to foster and protect," said Reneé Layman, chief executive officer of Center for Child Counseling. 
"A Way of Being with Children" online training and public health campaign has been made possible through the partnership and support of  Florida Blue Foundation, Early Learning Coalition of Palm Beach County, and Children's Services Council of Palm Beach County.
For more information on "A Way of Being" or to register for the online training or purchase the manual, visit: centerforchildcounseling.org/awayofbeing. For more information on training options for childcare centers, schools, or organizations, contact: dominika@centerforchildcounseling.org.
Since 1999, Center for Child Counseling has been building the foundation for playful, healthful, and hopeful living for children and families in Palm Beach County. Its services focus on preventing and healing the effects of adverse experiences and toxic stress on children, promoting resiliency and healthy family, school, and community relationships.
PHOTO ID:
Sample of public health approach awareness campaign being used on social media.
###