October 2, 2023
For immediate release
Media contact: Cara Scarola Hansen
Center for Child Counseling Public Relations Counsel
cara@yourmissionmarketing.com 
Center for Child Counseling Receives ATHENA Organizational Leadership Award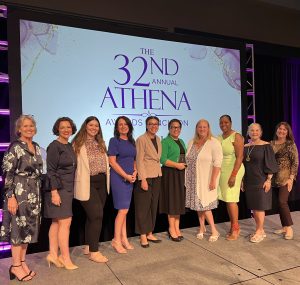 Center for Child Counseling is honored to announce its prestigious selection as the ATHENA Organization Leadership Award recipient for 2023. The Center received this recognition at the 32nd Annual ATHENA Awards Luncheon, hosted by the Chamber of Commerce of the Palm Beaches on September 28. 
An ATHENA Organizational Award nominee is a business or organization that creates an organizational culture that encourages women employees to achieve their full leadership potential and gives back to the larger community of women and girls by providing and/or supporting leadership development opportunities and initiatives. 
Brimming with pride and gratitude, CEO Renée Layman stated in her acceptance speech, "Thank you to the Chamber for awarding us with this prestigious honor. It's such a privilege to be honored for something we love to do. I stand here as CEO representing a whole team of women…In 1999, Jane Robinson had this idea for supporting women and young children in Palm Beach County when nobody was doing it. And I came on in 2013 as CEO to continue her vision of supporting some of the most vulnerable children in the county. Our mission would remain but a dream without the incredible women who surround me…It has been a community effort to make a better Palm Beach County for women, children, families. We're deeply grateful. We will take this and continue to fight for kids, continue to fight for the mental health of our children at a time when we are in crisis. Our need to act has never been greater. We will take this to spread awareness about what we need to do and we will continue to engage incredible women to support our mission." 
Martha Mayhood Mertz founded ATHENA International in 1982 to honor women leaders and bring balance to leadership voices worldwide, a community of current and future leaders who have the power to change the world. Its vision of developing diverse, transformative leaders worldwide is rooted in celebrating the change-makers and trailblazers who open doors of leadership and opportunity and for women in communities across the globe.
Since its inception, Center for Child Counseling has been a woman-led and woman-driven organization. Since 2013, Layman has expanded the organization's impact and sustainability, growing from four staff to 80–79 of them women–in just 10 years. From the top down, the women (and one man!) support each other: nurturing a culture that promotes learning constantly, living authentically, building relationships, and advocating fiercely for mental health and safety of girls and women. The Center embodies and embraces the very tenets that make up ATHENA International.
The Center was nominated by GL Homes Vice President of Community Relations Sarah Alsofrom for the ATHENA award and then selected as a 2023 Organizational Leadership finalist, along with Junior League of The Palm Beaches and Wellington Regional Medical Center. Other ATHENA award recipients included: Young Professional Award–Sarah Criser Elwell, CEO of the Forum Club of the Palm Beaches; Leadership Award–Dorritt MIller, Assistant County Administrator for Palm Beach County.
About Center for Child Counseling
Center for Child Counseling has been building the foundation for playful, healthful, and hopeful living for children and families in Palm Beach County since 1999. Its services focus on preventing and healing the effects of adverse experiences and toxic stress on children, promoting resiliency and healthy family, school, and community relationships. www.centerforchildcounseling.org Twitter: @ChildCounselPBC Facebook: @CenterforChildCounseling Instagram: @childcounselpbc
PHOTO IDs:
Center for Child Counseling staff and board members present at the 32nd Annual ATHENA Awards luncheon.
Click here to view the news release.
###