NEWS RELEASE
April 6, 2023
For immediate release
Media contact: Cara Scarola Hansen
Center for Child Counseling Public Relations Counsel
cara@yourmissionmarketing.com
"Why the pain": Dr. Gabor Maté Speaks with Local Community About Trauma and Addiction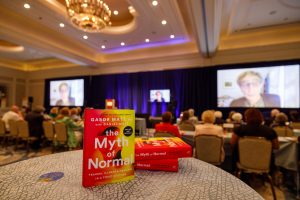 Dr. Gabor Maté event at The Breakers"Ask not why the addiction, ask why the pain." This was one of the many profound statements that trauma and addiction expert and international best-selling author Dr. Gabor Maté shared during Part II of Center for Child Counseling's 2023 Lead the Fight series. Chaired by Kathy Leone, vice chairman of the Community Alliance of Palm Beach County, and Julie Fisher Cummings, co-founder and chairman of Lovelight Foundation, and emceed by WPTV Channel 5's Ashley Glass, the event took place at The Breakers by special invitation only and online for the public. 
Passionate children's advocate Kathy Leone opened with asking the "leaders, thinkers, and doers in our community" to join the fight against Adverse Childhood Experiences (ACEs). She explained Center for Child Counseling's mission of healing trauma and prevention of ACEs and the role it plays on the frontline of seeing and addressing the mental health crisis in our country.

"With over 600 families on the waitlist for crisis counseling, we need more capacity," stated Leone.
She emphasized the need to shift our current system from "waiting" for a child to fall apart to "preventing" the child from falling apart and putting the onus on every attendee to join the fight against ACEs by bringing the knowledge and awareness back to their organizations, families, friend groups, and schools. 
Dr. Maté then took the "virtual" stage from his home in Canada to address the 75 attendees at The Breakers and more than 200 individuals joining online from 22 different states and 10 different countries. The interactive presentation drew on cutting-edge science to illuminate where and how addictions originate and what they have in common. He believes the source of addictions to be found in the early childhood environment–originating in trauma and emotional loss.
Maté defines addiction as "manifested in any behavior that a person craves, finds temporary relief or pleasure in but suffers negative consequences as a result of, and yet has difficulty giving up." In brief: creating pleasure, relief in the short term, hard in the long term, inability to give it up. Addiction impulses pain. He noted that addiction can entail substances–both the legal or illegal ones–but can also encompass almost any human behavior–eating, gambling, shopping, working, the internet, gaming, cell phones, etc. 
As any kind of development requires the right conditions, Maté stressed the need for prevention of addiction to begin at the first prenatal visit and continue with the developing brain: "Our most sacred gap, surely as a society, including in our school, is not the teaching of skills and facts but the ensuring of healthy brain development because it continues into adulthood."
He explained how the interactions of genes and experiences literally shape the developing brain and critically influence the mutual responsiveness of adult-child relationships, particularly in the early childhood years: "The most important influence on a healthy developing brain is the quality of adult-child, really emotional, relationships. That's what shapes the brain. Now you can understand why kids who have experiences with ACEs will have brains that are predisposed for addictions and mental health issues and auto-immune disease and all kinds of other problems and dysfunctional behaviors." 
He noted, ACEs are traumatic but they are not the trauma. "Trauma is not what happens to us but the wound that we sustain as a result of what happens to us. So, those adverse childhood experiences are traumatic but the wound is what happens inside of us as a result of them." 
ACEs often cause severe emotional pain which then the individual has to solve partly by addictive behaviors: not by the addiction but by the pain. 
Maté continued that in addition to children being wounded by the bad things on the ACE roster, they can also be wounded by the good things that do not happen to them–an environment in which their in-born expectations are not met and will result in dysfunction, unhealthy development.
He described the four irreducible needs of children: attachment relationship, rest, validating of emotion, and play. Infants need attachment, a relationship in which they are absolutely secure. Children need rest–the need to exist and know that relationship is there for them no matter what. Children need the support of all of their emotions without being for those emotions, because if their emotions are not supported, the child will begin to depress their emotions. Creative play is an essential need of all mammals, and according to Maté, play is more important for brain development than academic information. He praised Center for Child Counseling for its work surrounding play and play therapy. 
"Yes, adverse childhood experiences are very important to pay attention to and we need to add to them–poverty and racism as well. But many of our kids are also being hurt, not because of those childhood adversities but because their essential human needs are not met in this increasingly toxic and stressed culture." 
When treating children, Maté underscored the importance of responding to children's underlying emotional needs that the behaviors and symptoms express. And the same thing with adults, "it is not enough just to focus on the addictive behavior. You also have to ask not 'Why the addiction, but why the pain? What happened to you and how can we help you heal the trauma that's underlying your behavior?'"
Maté called for a compassionate approach toward addiction, whether in ourselves or in others: "Never underestimate your power, either working with adults or children. If you show up as an empathetic witness, there's so much healing that you can initiate, just by compassion and presence." 
Following the featured presentation and an interactive conversation with the audience, Fisher Cummings called on the attendees in the room and online to join in leading the fight against ACEs by committing to taking action: become ACEs-aware and -informed through training; invest in early childhood development; join the Center's new Giving Circle; or send letters and information provided by the Center to policy makers urging them to drive supportive change. 
Center for Child Counseling, in conjunction with Leadership Palm Beach County Class of 2017, developed 'Lead the Fight' in 2016 to bring awareness to system leaders around fighting childhood adversity with advocacy and action. In 2021, the event was transformed into a virtual action series in response to the pandemic and the urgent need to move forward policies and practices that support children's mental health and resilience. Virtual conversations continued in 2022.
The 2023 Lead the Fight series is continuing with monthly conversations and events through June, hosting nationally- and internationally-recognized experts on various topics. The next event will take place virtually April 19, 2023, and feature Fritzi Horstman with the Compassion Prison Project to bring the community the topic of trauma-informed work among our incarcerated community members. For more information and to register, visit: www.centerforchildcounseling.org/leadthefight. 
Partnership sponsors who are leading the fight in making these important and necessary panel conversations possible include: The Breakers Palm Beach and Kathy Leone, The Hanley Foundation, The Haley Foundation, Julie Fisher Cummings and the Lovelight Foundation, SageView Advisory Group, Florida Association for Infant Mental Health,  First Republic Bank, Lighthouse ArtCenter, Premier Pediatrics, The Journey Institute, Florida Association for Infant Mental Health, Searcy Denney Scarola Barnhart & Shipley, Stephens & Stevens, Marital and Family Law.
The Center's Fighting ACEs initiative to build trauma-informed communities is made possible with the generous support of Quantum Foundation, Community Foundation for Palm Beach and Martin Counties, and private donors.
About Center for Child Counseling:
Center for Child Counseling has been building the foundation for playful, healthful, and hopeful living for children and families in Palm Beach County since 1999. Its services focus on preventing and healing the effects of adverse experiences and toxic stress on children, promoting resiliency and healthy family, school, and community relationships. As of October 2022, KidSafe Foundation now operates under Center for Child Counseling as the two entities are now stronger together in their education and prevention of child sexual abuse and childhood trauma.
www.centerforchildcounseling.org Twitter: @ChildCounselPBC Facebook: @CenterforChildCounseling Instagram: @childcounselpbc
Click here to view the news release.
###