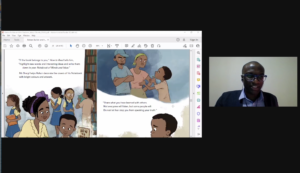 NEWS RELEASE
February 25, 2022
For immediate release
Media contact: Cara Scarola Hansen
Center for Child Counseling Public Relations Counsel
cara@yourmissionmarketing.com
Lead the Fight, ACEs event, attracts community leaders from 23 states and 11 countries:
Author Juleus Ghunta and UNICEF's Benjamin Perks advocate for giving children with trauma a voice
Lead the Fight, Giving Children with Trauma a Voice, took place Tuesday, February 22, 2022–hosted by Palm Beach County non-profit Center for Child Counseling (CFCC). The event featured a virtual book reading of Rohan Bullkin and the Shadows: A Story about ACEs and Hope and conversation with author Juleus Ghunta, as well as the keynote address given by Benjamin Perks, head of Campaigns and Advocacy at UNICEF. Ashley Glass, co-anchor of CBS12 News This Morning, emceed the international event which brought together community sector leaders from 23 states and 11 countries around the globe to learn, strategize, and take action to end child abuse and neglect.   
The event opened with Glass laying the foundation of the American Academy of Pediatrics defining adverse childhood experiences (ACEs) and trauma as "the Public Health issue of our time"–further exacerbated by the COVID-19 pandemic. Despite ACEs being the root cause of many crises our communities face–gun violence, domestic abuse, overflowing jails, homelessness, child abuse, addiction, chronic disease, and mental illness–the event gave the more than 270 registrants hope.
"We are here tonight to talk about solutions–ways we can Lead the Fight…Adversity doesn't mean a death sentence. With the help of a caring community, resilience grows and builds through each adverse outcome…Know your role in creating trauma-informed communities: be a buffering influence in the life of a child who needs you," stated Glass. 
Renée Layman, chief executive officer of CFCC, followed with her rally cry, "We don't have to wait for a child to fall apart before we do something….As mental health professionals, we can't do it all…We need to figure out collectively how to build the capacity of our community to affect mental health."
In Perks' keynote address, he explained the importance of connection, not as a luxury but part of our evolutionary biology, and how human beings are dependent on adults for longer in the life cycle than any other species: "We depend on [adults] for three things–for love, for nurture, and for protection. We have a biological need to be loved…it's there from day one."
He continued to explain the need and importance of buffering adults in children's lives: "Every child needs a champion who will be there for them no matter what, to form a deep connection and hold them up to the highest standards and help them to achieve those standards. We live in a world powered by the love of teachers, caregivers, and parents, but we also all too often take that for granted and fail to invest in it. Connections with them are the vaccines against and the medicine for adverse childhood experiences and having the power to break intergenerational trauma."
Perks championed the idea that communities need to do more to protect vulnerable children than to exploit them. 
Following Perks address, Ghunta answered questions related to his personal and difficult journey with adverse childhood experiences and the inspiration for his new book, Rohan Bullkin and the Shadows: A Story about ACEs and Hope. Ghunta described the book as coming from a "very deep, deep place inside of me…this is a book about my life, my story, my experiences as a survivor of about 18 adverse childhood experiences."
Ghunta then delivered an animated and heartfelt reading of Rohan Bullkin and the Shadows which highlights the need to find transformative ways of engaging with perpetrators of ACEs and the role families and communities can play in helping survivors develop resilience and hope. 
As part of Center for Child Counseling's mission to build playful, healthful, and hopeful living for children and families, the agency is educating adult caregivers to build their capacity to implement effective strategies to promote resilience and help children. CFCC developed 'Lead the Fight' in 2016 to bring awareness to system leaders around fighting childhood adversity with advocacy and action. In 2021, the event was transformed into a virtual action series in response to the pandemic and the urgent need to move forward policies and practices that support children's mental health and resilience. 
"For the 2022 launch, we are incredibly grateful to Ben Perks and Juleus Ghunta for leading the fight against ACEs and sharing their poignant reflections and experiences related to childhood trauma and adversity with our global community. And we thank Ashley Glass for lending her voice and joining the fight to help tackle the effects of ACEs. It's imperative that we continue to share the message that children thrive when they have regular interactions with responsive, caring adults. Therefore, we have to continue to make the adults in our neighborhoods, schools, healthcare, and community center ACEs- and trauma-aware, so they can buffer the adversity children experience at home, preventing further harm," reflected Layman. 
By using a virtual platform to host the event, Ghunta joined from Japan, Perks from New York, and Glass from Florida. Attendees also participated from Aruba, Bermuda, Canada, Cayman Islands, Jamaica, Saint Kitts and Nevis, South Africa, Trinidad and Tobago, and the United Kingdom.
For more information on joining the fight and helping tackle the effects of adverse childhood experiences, visit centerforchildcounseling.org. 
ABOUT JULEUS GHUNTA:
Juleus Ghunta is a Chevening Scholar, children's writer, a member of Jamaica's National Task Force on Character Education, and an advocate in the Caribbean's Adverse Childhood Experiences (ACEs) movement.
Ghunta holds a BA in Media from The University of the West Indies, Mona, and an MA in Peace Studies from the University of Bradford. His work explores the links between toxic stress and academic underachievement. His poems and essays on ACEs have appeared in 30+ journals across 16 countries. His picture book, Tata and the Big Bad Bull, was published by CaribbeanReads in 2018, and he is the co-editor of the December 2019 and March 2020 issues of Interviewing the Caribbean (The UWI Press), focused on children's literature and ACEs in the Caribbean. Juleus' new book, Rohan Bullkin and the Shadows: A Story About ACEs and Hope, was published by CaribbeanReads on December 31, 2021. His Notebook of Words and Ideas, which features prominently in Rohan Bullkin and the Shadows, will be published by CaribbeanReads in 2022. 
ABOUT BENJAMIN PERKS:
Benjamin Perks is the Head of Campaigns and Advocacy in the Division of Global Communications and Advocacy  at the United Nations Children's Fund, based in New York. He leads on public and policy advocacy on issues related to the survival, development and protection of children. He is a member of the Policy Advisory Group on the Global Partnership to End Violence Against Children and serves on a number of other bodies.
In personal capacity, he is Senior Fellow at the Jubilee Centre at the University of Birmingham in the UK, which researches education policy on character, social, and emotional development of children. He holds a master's degree in International Relations from the University of Kent at Canterbury and has recently completed a mid-career program with the Harvard Graduate School of Education on Leadership and Education Reform.  He is recognized as a public speaker, blogger, and influencer on violence against children and adverse childhood experiences. His TedX talk on Adverse Childhood Experiences can be found here. Perks can be followed on twitter and his blogsite.
ABOUT ASHLEY GLASS:
Ashley Glass, a highly-regarded journalist with almost two decades of experience as an anchor and reporter, is the weekday co-anchor of CBS12 News This Morning 4:30-7 am, and CBS12 News at 9 am and noon. She has previously worked in Tampa, Springfield, IL and Gainesville. Ashley has covered many significant news events, is a champion for small businesses, and produces and presents regular special reports on the impacts of the COVID-19 pandemic, focusing on children's mental health and other timely issues. She graduated from the University of Florida with honors and dual degrees in Telecommunication-News and Political Science. Ashley has two daughters and loves living in Palm Beach County. 

PARTNERS LEADING THE FIGHT:
Partnership sponsors who are leading the fight and made this important and necessary panel conversation possible include: First Republic Bank, WPEC CBS 12, Children's Services Council Palm Beach County, Searcy Denney Scarola Barnhart Shipley,  Ward Damon Attorneys at Law, and Premier Pediatrics.

CFCC's Fighting ACEs initiative to build trauma-informed communities is made possible with the generous support of Quantum Foundation, Community Foundation for Palm Beach and Martin Counties, and private donors.
RECORDING OF THE EVENT:
Click here to view the full recording of the "Lead the Fight 2022" event.
###