By Caitlen Macias, student at the Columbia School of Social Work and Center for Child Counseling Intern
"We are preventing child sexual abuse, sexual exploitation, and child maltreatment by giving children the tools to access help from trusted adults."- Laura Askowitz, Director of Strategic Development at Center for Child Counseling, former CEO of KidSafe Foundation.
In our community, Adverse Childhood Experiences (ACEs) impact people of all races, backgrounds, and income levels. According to the CDC, 61% of adults had at least one ACE and 16% had 4 or more types of ACEs. Child sexual abuse is among one of the most common ACEs and a significant public health issue. About 1 in 4 girls and 1 in 13 boys in the United States experience child sexual abuse. Of those who are abused, 91% of the time a child is harmed by someone they know and trust.
We need to partner to fight, prevent, and address this problem. KidSafe, now a program of Center for Child Counseling (CFCC), is working to address and prevent child sexual abuse. The merger of the two nonprofit organizations is a strategic partnership to increase prevention education and funding streams to decrease child sexual abuse in Palm Beach County.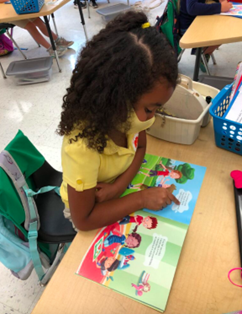 KidSafe has focused on providing a public health approach that maximizes impact while emphasizing health and safety. To prevent child sexual abuse, students, teachers, and families need to be knowledgeable and aware of the tactics and grooming techniques that are used to exploit and abuse children in-person and online. KidSafe provides age-appropriate lessons and skill building for children, training for educators, healthcare professionals, camp staff, and resources for families.
Through Stay KidSafe!, a teacher-led educational program, children develop an inner voice and speak out when physical and emotional boundaries are crossed. Empowering children to be confident and self-aware encourages communication with their trusted adults regarding personal safety. "Teachers spend extended periods of time with their students and know them well. We are providing teachers with the tools to be KidSafe ambassadors in the classroom to educate and inspire students", says Cherie Benjoseph, LCSW.
The curriculum explores a variety of topics depending on the age of the children. In Kindergarten, children learn about their Inner Safety Voice, an internal voice that helps them make safe and smart choices. Children also are introduced to body safety and the Circle of Safe Adults, trusted adults that can help children access help. In 1st and 2nd grade, students continue to develop their Safety Voice while exploring digital safety and learning about boundaries, consent, and bad secrets. In 3rd and 4th grade, students do an in-depth exploration into consent and how to get help if their boundaries are violated. Children use the skills they have learned about personal safety to understand how to navigate the online world that might expose them to cyberbullying, online predators, and inappropriate content.
By 5th grade, students study how to recognize Red Flag warning signs in interpersonal relationships. The entire program repeats important concepts and builds on the previous year's concepts to make sure children are able to apply the lessons they learn. Stay KidSafe!, is "a kid friendly program that is chunked into digestible bites. The program allows kids to listen, think, reflect on and practice what is taught. The animations and books are engaging and discuss appropriate content", explains Cori, an Elementary School Teacher.
KidSafe has had reverberating success in the community since 2009! Laura Askowitz recounts a recent success story from the program that changed a child's outlook. In a 5th grade class, the guidance counselor said that David was a quiet kid who rarely spoke. After receiving the KidSafe programming, he started speaking up and interacting more with the adults and children. David was given a voice and can now speak out if his boundaries are crossed. The program is teaching kids how to identify when their personal, physical, and emotional boundaries are disrespected by anyone. This inspires kids to be their own advocates and access help when peers or adults attempt to engage in inappropriate behavior.
Looking to the future, "we are excited about this merger. It allows for us to work together to increase funding, education, and prevention around child sexual abuse. Through an array of prevention, early intervention, and treatment we aim to not only provide healing after sexual abuse but also create schools and a community equipped to keep children safe", states Renée Layman, CEO of the Center for Child Counseling.
For more information on the KidSafe's programming visit: https://learn.kidsafefoundation.org/
Support the KidSafe Campaign in Palm Beach County.
Resources:
https://www.cdc.gov/violenceprevention/childsexualabuse/fastfact.html
https://www.centerforchildcounseling.org/ways-to-give/kidsafecampaign/