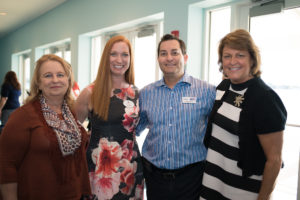 West Palm Beach, FL (April 26, 2017) – The Center for Child Counseling, in partnership with a team from the 2017 class of Leadership Palm Beach County, hosted over 100 business and community leaders from around Palm Beach County on Wednesday, April 26, 2017. The event was the first of its kind in Palm Beach County to discuss the economic impact of Adverse Childhood Experiences (ACEs) on the private sector. Attendees included Thomas Bean, FPL; Mayor Maria Marino, Palm Beach Gardens; Shanon Materio, West Palm Beach Commissioner; Erica Whitfield, Palm Beach County School Board; plus, representatives from Gunster, St. Mary's, United Way, and more.
The Economic Impact of Childhood Adversity and Trauma in Palm Beach County was presented by Renée Layman, CEO of Center for Child Counseling; Dr. Lisa Williams-Taylor, CEO of Children's Services Council of Palm Beach County; Eddie Stephens, Equity Partner at Ward Damon; and Randy Scheid, VP of Programs at Quantum Foundation. The event opened with Williams-Taylor, bringing insights to the cost of trauma on businesses, stating "The bottom line – ACEs affect business profitability and national productivity." She cited staggering findings such as "the CDC estimated that depression, a long-term impact of ACEs, causes 200 million lost workdays each year." Scheid commented on the shift in funding at the Quantum Foundation stating, "What we now know about how ACEs affect the long-term health of the community has caused us to focus on more preventative programming like that which Center for Child Counseling provides." The event closed with Stephens, sharing his compelling personal story of overcoming personal tragedy and being an ACE survivor,  and then called on the business community to get involved in supporting prevention and early intervention mental health services – things he said he did not receive when he most needed them as a child.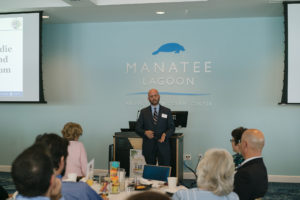 Renée Layman, CEO of the Center for Child Counseling noted, "The opioid epidemic we are facing in our county is impacting an entire generation of children. We cannot sit back and wait for them to start showing signs of distress. The science shows we must reach out to them early so they can avoid repeating the cycle of addition and adversity." Attendees were encouraged to take trauma-informed practices back to their workplaces, invest in early intervention programs, and challenged to take the next step as a leader in the community.
Hosted at Manatee Lagoon, an FPL Eco- Discovery Center, the event was part of the Fighting ACEs initiative funded by Quantum Foundation. Sponsors included Children's Services Council, Birth to 22, Ward Damon, Future Shapers Florida, Forming Brands, Florida Community Bank, Sharmin & Sharmin Attorneys at Law, Larry M. Shrier, MA, Palm Beach Gardens, and Gordon & Doner.
About the Center for Child Counseling
The Center for Child Counseling is a nonprofit organization founded in 1999 to serve young, vulnerable children and provides the foundation for playful, healthful, and hopeful living for children and families in Palm Beach County. Over the past 18 years, the Center for Child Counseling has been recognized for its excellence in programming, including the Blue Foundation's Sapphire Award for innovation in community health and the National Easter Seals Award of Excellence. Click here to learn more about ACEs and what is being done in Palm Beach County to address this issue.