FOR IMMEDIATE RELEASE
CENTER FOR CHILD COUNSELING HONORED AS 2015 TOP-RATED NONPROFIT
GreatNonprofits.org Award is based on Positive Online Reviews         
PALM BEACH GARDENS, Fla. (September 5, 2015) – Center for Child Counseling announced today that it has been honored with a prestigious 2015 Top-Rated Award by  GreatNonprofits, the leading provider of user reviews about nonprofit organizations.
"We are excited to be named a Top-Rated Nonprofit again this year," says Renée Layman, Chief Executive Director. "We are particularly proud of our accomplishments this year, including being a partner in the Children's Behavioral Health Collaborative, an innovative initiative to improve the system of care for children in our community with mental health needs. We have been able to significantly expand the number of children we help."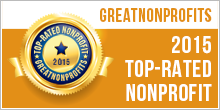 The Top-Rated Nonprofit award was based on the large number of positive reviews that Center for Child Counseling received – reviews written by volunteers, donors and clients. People posted their personal experience with the nonprofit.  For example, one person wrote, "I have seen firsthand the incredible work this organization does with children as my grandson has received services through them. He has made wonderful progress and development. The therapists are passionate about their clients and are wonderful advocates for them."
While the Top-­Rated Awards run through the end October, Center for Child Counseling was part of the inaugural group to qualify for the year.  In addition, we'll be added to GreatNonprofits #GivingTuesday Guide, an interactive guide to top nonprofits throughout the years. Look for this near the holidays. "Savvy donors want to see the impact of their donations more than ever," said Perla Ni, CEO of GreatNonprofits, "People with direct experience with Center for Child Counseling have voted that the organization is making a real difference."
Being on the Top-Rated list gives donors and volunteers more confidence that this is a credible organization. The reviews by volunteers, clients and other donors show the on-the-ground results of this nonprofit. This award is a form of recognition by the community.
About the Center for Child Counseling
The Center for Child Counseling is a nonprofit organization founded in 1999 to serve young, vulnerable children in Palm Beach County. The organization strives to strengthen and empower children and families through prevention, early intervention, and treatment services that support their social-emotional wellness and growth.
Over the past 16 years, the Center for Child Counseling has been recognized for its excellence in programming, including being the recipient of the Blue Foundation's Sapphire Award for innovation in community health and the National Easter Seals Award of Excellence. The organization is a Town of Palm Beach United Way partner agency, a member of the Children's Behavioral Health Collaborative, and most recently was selected to implement the Child First Program, funded by the Children's Services Council of Palm Beach County. For questions about the Center for Child Counseling, please contact Sarah Lidinsky Turner, Director of Community Relations  or call 561-244-9499 ext. 7.
About Great Nonprofits
GreatNonprofits is the leading site for donors and volunteers to find reviews and ratings of nonprofits. Reviews on the site influence 30 million donation decisions a year. Visit www.greatnonprofits.org for more information.