CfCC Receives Funding from PBG Resident for Cutting Edge Therapy to Address Trauma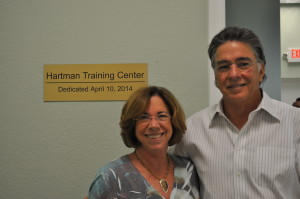 Thanks to the generous support of Palm Beach Gardens resident, Ruth Hartman (pictured to the left with husband Jon Fernans), Center for Child Counseling will offer Eye Movement Desensitization and Reprocessing (EMDR) training to staff therapists and interns again this year. Ms. Hartman has been a generous supporter of the organization for the past three years due to her interest in making a difference for children in our community with mental health concerns.
EMDR is a psychotherapy approach that has been extensively researched and proven effective for the treatment of trauma, with the American Psychiatric Association Practice Guidelines (2004) recommending EMDR as one of the first-line treatments of trauma. Over the past year, Center for Child Counseling has been integrating EMDR into practice with young children and teens who have experienced significant trauma and abuse, with outstanding results.
In addition to EMDR, the Center for Child Counseling uses interventions, such as Play Therapy, to help children recover from trauma related to physical and sexual abuse, violence, and loss. Working with the theory of neuroplasticity, which refers to the fact that we can retrain the brain, therapists employ different therapies to help children and their families heal, improve resiliency, and increase hope through healthy relationships and understanding.
"We feel incredibly grateful to have support from community residents, like Ruth, who are providing resources that enable us to help children cope with life shattering experiences." states Renée Layman, Chief Executive Officer at the Center for Child Counseling.
Stephanie De La Cruz, Senior Therapist at the organization's Child and Family Center, is a licensed mental health counselor who started using EMDR last year. "I had a teenager who did not want to talk about his experiences…at all," states Stephanie. "Finally, we discussed EMDR and it was very appealing because he would not have to share the details of his experience out loud. Instead, he was able to think about the situation as we processed it in session. This approach has allowed him to start to move forward in addressing the trauma. He is much more comfortable coming to therapy and is making incredible progress."
Therapist Sarah Cohen is also seeing the impact with children. One young girl in particular stands out in her mind. "She had been through years of different therapies and techniques, with little success," said Sarah. Nothing was working to help her deal with multiple traumatic experiences and numerous placements in foster care. "With EMDR, the client was able to think internally about her story and process it without trying to ignore it. Her entire demeanor began to improve after only a few sessions. She is happier and more in touch with her feelings."
EMDR in the news