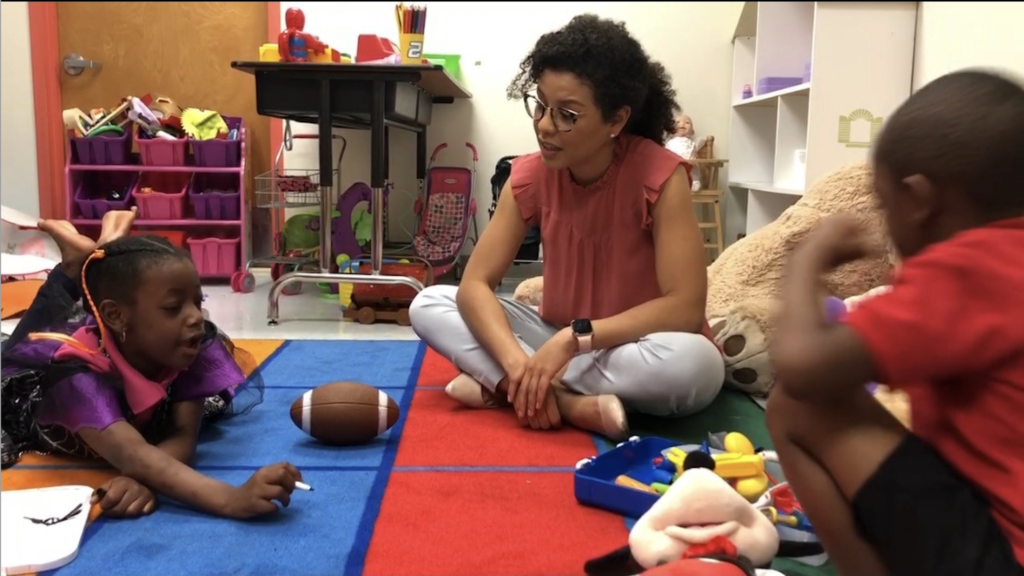 NEWS RELEASE
April 12, 2021
For immediate release
Media contact: Cara Scarola Hansen
cara@yourmissionmarketing.com
561-632-6747
COVID Increases Risk for Child Abuse: Center for Child Counseling Fights ACEs and Raises Awareness During Child Abuse Prevention Month
In recognition of April as Child Abuse Prevention Month, Center for Child Counseling (CFCC) is raising awareness and building prevention methods for Adverse Childhood Experiences (ACEs) in Palm Beach County.
According to the CDC, heightened stress, school closures, loss of income, and social isolation resulting from the COVID-19 pandemic have increased the risk for child abuse and neglect. Adverse Childhood Experiences, such as abuse and neglect, are a leading public health issue. In the absence of healthy and buffering relationships, childhood trauma and adversity can have a devastating impact on the minds and bodies of children and lead to a lifetime of issues for individuals, including mental and physical health difficulties and a shorter life expectancy.
"ACEs are the single greatest unaddressed public health threat facing our nation today," said Dr. Robert Block, former president of the American Academy of Pediatrics.
While the focus has undoubtedly been on the pandemic, the resulting emotional fallout and other unexpected and unintended consequences are going to be part of the so-called "echo pandemic" for years and possibly decades to come. Children already living in tenuous circumstances have almost certainly fallen through the cracks when it comes to abuse, neglect, and household dysfunction. The rates of alcoholism and drug abuse have skyrocketed in American homes, as has childhood depression. According to Johns Hopkins All Children's Hospital, from April through November of 2020, there was a 35% increase in children who needed mental health assistance compared to 2019 and an uptick in suicide attempts as well.
Center for Child Counseling continuously works to fight ACEs and promote solutions. Building a resilient community to support child-wellbeing is the overarching goal.
"If we ensure that every community is equipped to support people who have experienced traumatic events, we make resilience a real possibility. Abuse and neglect don't discriminate and neither do behavioral issues or family dysfunction," states Renée Layman, Chief Executive Officer at CFCC, which aims to fill critical gaps in the system of mental health care for young children and their families.
CFCC's Fighting ACEs initiative includes an array of prevention and early intervention activities including direct services for children and families, clinical training and supervision, and educational workshops for caregivers and professionals–teachers, social workers, childcare workers, police officers, attorneys, nonprofits, foster care homes, pediatricians, etc.–who work with children on how to recognize signs of Adverse Childhood Experiences and combat toxic stress in children. The ultimate goal in preventing abuse and mitigating long-term effects is to create a system-wide network of adult 'buffers' who are trauma-informed and 'ACEs aware.'
"Fighting ACEs is at the core of our mission. Mental, emotional, social, and physical well-being are directly linked to what happens in early childhood. We are able to provide multi-layered interventions and support for families and caregivers who are dealing with the effects of ACEs," says Layman.
In addition to intervention, CFCC also recognizes the importance of prevention as a key solution. During this period of uncertainty and change, many children are craving reassurance and support from the adults in their lives–parents, family members, caregivers, and educators. Adults are also likely finding the need for extra support to navigate the chaos of a pandemic-driven world. One way that Center for Child Counseling is building a resilient community is through free online trainings and workshops that offer practical advice and coping techniques to meet the expressed needs of our communities. Topics range from 'Resilience Building – A Guide for Educators' to 'How to Manage Sibling Rivalry' to 'Supporting Children During COVID-19.'
To nurture children's potential and to promote greater health and wellbeing throughout Florida, one of the most impactful things community members can do is address Adverse Childhood Experiences. National Child Abuse Prevention Month recognizes the importance of families and communities working together to strengthen families to prevent child abuse and neglect. Through this collaboration, prevention services and supports help protect children and produce thriving families. Join CFCC in building resilience and raising awareness and prevention of ACEs, like abuse, by participating in one of the free trainings through the Institute for Clinical Training. For a full listing of courses and to register, visit: www.centerforchildcounseling.org/training/.
Since 1999, Center for Child Counseling has been building the foundation for playful, healthful, and hopeful living for children and families in Palm Beach County. Its services focus on preventing and healing the effects of adverse experiences and toxic stress on children, promoting resiliency and healthy family, school, and community relationships. For more information, visit: centerforchildcounseling.org. For schools, organizations, and individuals interested in learning more about the effects of toxic stress and ACEs, please contact info@centerforchildcounseling.org. The Fighting ACEs initiative is made possible with the generous support of the Quantum Foundation and private donors.