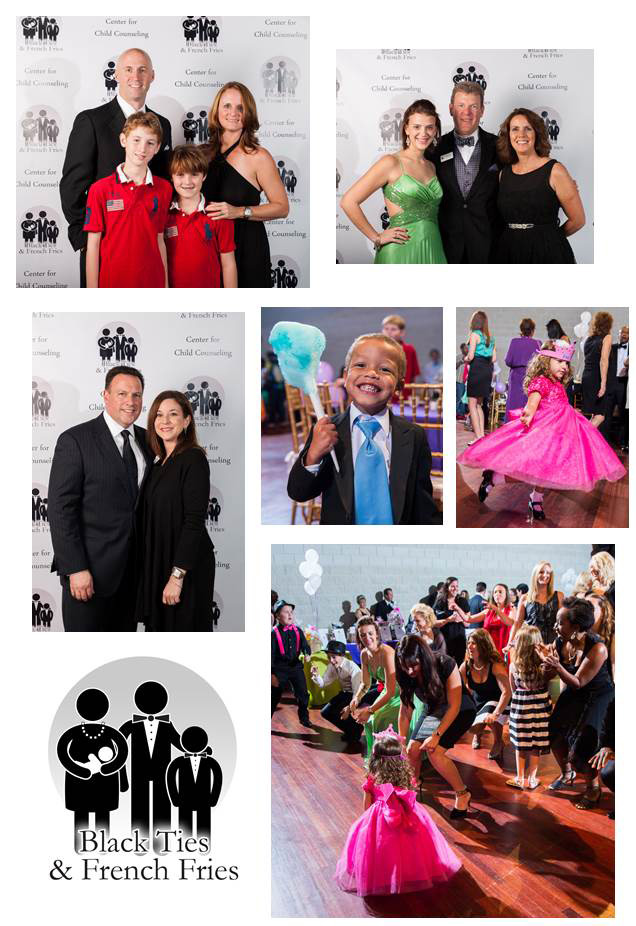 Black Ties and French Fries Benefits Young Children Impacted by Trauma
Palm Beach Gardens, Fla. (March 26, 2014) --- The Center for Child Counseling celebrated its inaugural fundraising event, Black Ties and French Fries, at the Borland Center in Palm Beach Gardens on February 22, 2014. Over 130 adults and 40 children attended the 'creative' black tie affair, helping raise funds to support young children in Palm Beach County impacted by abuse, violence, and other traumatic situations that impact healthy emotional development. Major event supporters included Palms West Hospital, Pediatric Partners, Palm Beach Pediatrics, Oxbridge Academy of the Palm Beaches, and Chandler Campbelle & Daschle.
Guests enjoyed an evening of fun for the entire family with WRMF's Deena Lang serving as the emcee. DJ Izzy, from LET'S PARTY! Entertainment & Events, kept the crowd dancing to the Cha Cha Slide, Electric Slide, and much more. Table-side magic, a special magic show, children's VIP lounge, silent auction, and fun finger foods were a hit. Children engaged in their own chance drawing, participating in giving back to children in need.
The Center premiered a new video at the event highlighting their services and the critical need to focus on helping the youngest, most vulnerable children in our community, the foundation of their mission. Over 30 teenagers and teachers from Oxbridge Academy of the Palm Beaches volunteered for the event, spending the day helping to set up, entertain the children, and clean up after the event. "It was truly special to have so many teenagers give their time to give back to our community," states the Center's Chief Executive Officer, Renée Layman. "They are the future leaders of our community and exemplify the potential of what all our children can be with the proper support."
A special thank you to our sponsors, community partners, and guests for making our inaugural event to support young children impacted by trauma such a success!