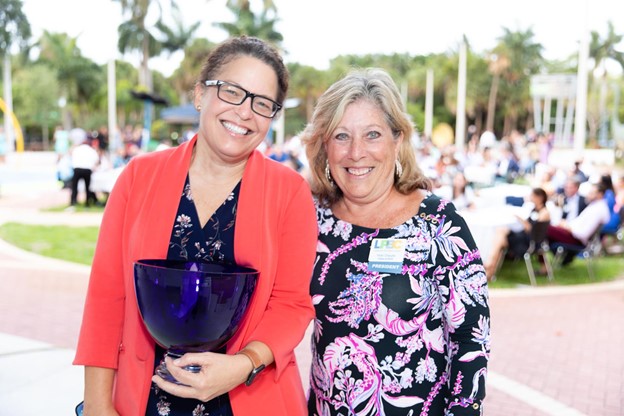 On Thursday, June 3, 2021, Leadership Palm Beach County (LPBC) hosted it's annual Leadership Celebration at the South Florida Science Center and Aquarium to celebrate graduates of its Engage program and honor the recipients of its 2021 Leadership Excellence Awards. The Leadership Excellence Award was created to celebrate those alumni who reflect LPBC's core values of connecting, collaborating, and change; individuals who have made a notable contribution to improve and impact our community.
Center for Child Counseling (CFCC) is proud to announce that CEO Renée Layman was awarded the prestigious President's Award for leadership and community impact. This award, selected by the current president and LPBC's Board of Directors is presented annually to a leader who embodies organizational excellence and also consistent and intensive positive influence in educating, serving, and supporting local communities. Vicki Chouris, President of the LPBC Board and CEO of the South Florida Fair selected Ms. Layman for her dedication, selflessness, and commitment to the children and families of Palm Beach County.
During her speech at the event, Ms. Layman talked about the work she has conducted since she graduated from Leadership Palm Beach County in 2010. She is not only a dedicated alumnus of the LPBC organization but her work in her capacity as CEO of CFCC has impacted the mental health and well-being of thousands of children and families.