By Caitlen Macias, student at the Columbia School of Social Work and Center for Child Counseling Intern
The Center for Child Counseling is paving a healthy future for children in Palm Beach County through its integrative and holistic healthcare approach. We understand that mental and physical health is vital to the well-being of the child and their life outcomes. Pediatricians are on the front lines, observing, interacting, and serving children; they are often the first to notice the impact of mental health and behavioral concerns. 75% of children are seen in primary care settings and pediatricians are the trusted experts for much of a child's life. CFCC's innovative Pediatric Integration Program is now collaborating with Palm Beach Pediatrics to provide counseling services and care coordination support to children and families in our community.
The Need:
According to the CDC, poor mental health among children continues to be a substantial public health concern. ADHD and anxiety for all ages and depression among adolescents continue to be the most common concerns displayed by children. Locally in 2021, Palm Beach County focus groups were conducted with 299 PBC residents who mentioned that diabetes, cancer, asthma, substance use, heart disease, and poor mental health were among the top health issues with which they, their families, or their community struggle.
In Palm Beach County alone there are six mental health professional shortage areas. "The need is so great in our area, we are in dire need of more therapists. Our team is receiving overwhelming amounts of referrals from pediatricians, unfortunately, we don't have enough therapists to satisfy the demand" says CEO Renée Layman." We provide families the resources they need while they await services, many of their needs are met through care coordination and consultations".
The Solution:
Our model has been implemented using the recommendations of the Substance Abuse and Mental Health Services Administration (SAMHSA) for integrated care. The program administers care at the Level 5 benchmark, the second highest level which emphasizes close collaboration between care coordinators, pediatricians, and therapists to serve clients and families.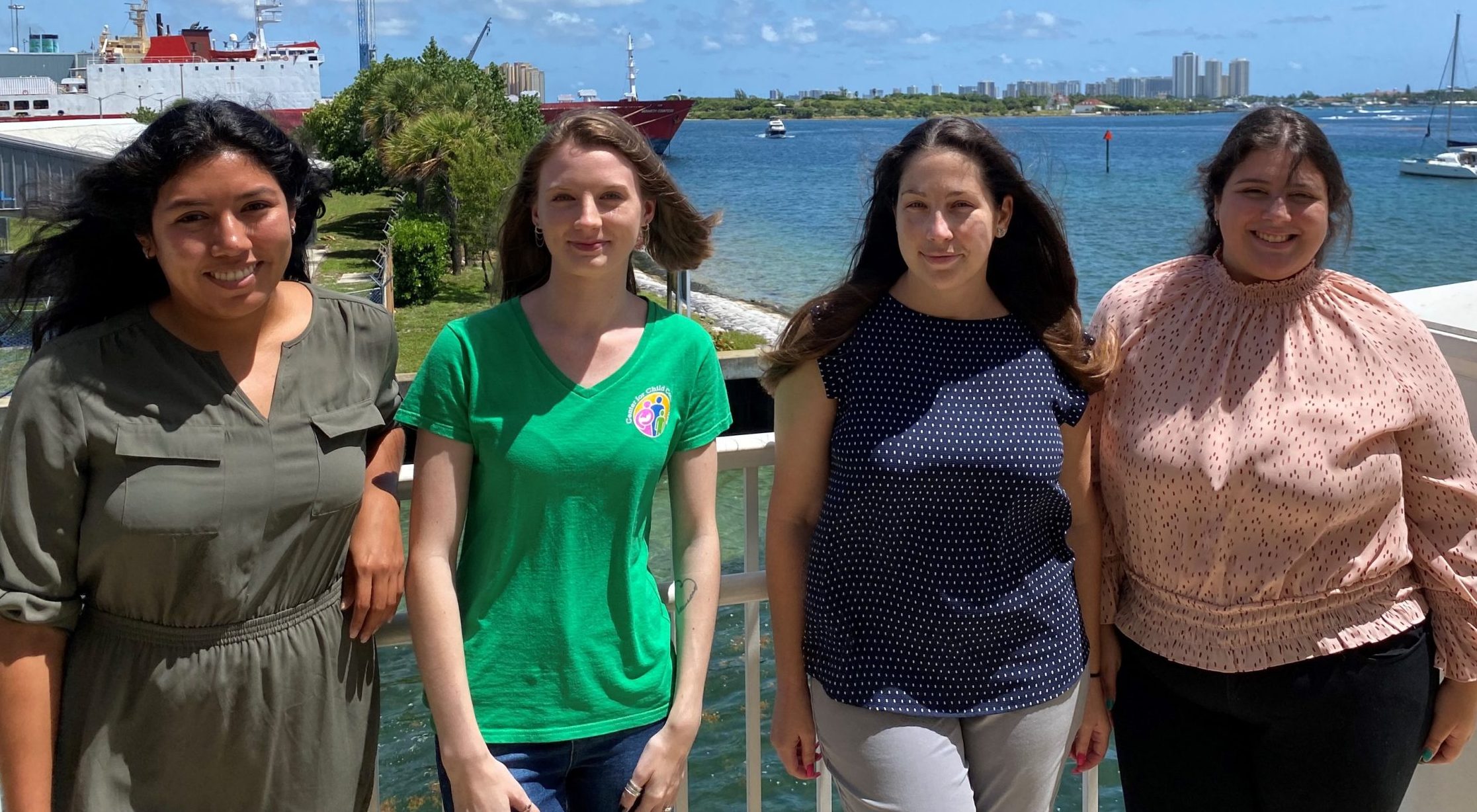 CFCC's Pediatric Integration Program is intertwining and prioritizing the mental and behavioral health of children in our area by allowing pediatricians to make referrals for services to the Center for Child Counseling and other mental health providers.
Furthermore, our expert care coordinators (pictured to the left) assist families with other kinds of resources to satisfy their basic and home needs. This might include connecting families with housing, helping them apply for SNAP benefits, or coordinating child care. "Clients and families are on a spectrum of need, our team is seeking to meet the basic needs of our families to help them overcome adversity," says Kelly Benavidez an Intake Care Coordinator for the Pediatric Integration Program.
Our Progress:
Our Pediatric Integration Program just celebrated its first birthday! October 1st of this year officially marks the start of year 2 of the program. Over the last year, we have collected data to track our progress and impact. Almost 90% of clients in the program demonstrated an improvement in overall social-emotional functioning during the last 3 months as measured by a decrease in the client's Children's Functional Assessment Rating Scale, CFARS scores. 86.9% of clients enrolled in the program experienced a decrease in CFARS scores across the past year since the program was implemented.
Clients in the program have also reported success and improvement in their overall mental health. An 18-year-old male sought services to address symptoms of anxiety and depression and had previously planned to participate in college virtually and remain at home due to social anxiety. After learning how to cope more adaptively and communicate his feelings, he recently reported his decision to attend college in person as a part of his journey toward overcoming feelings of anxiety and depression. This client demonstrated improvement in functioning across domains as evidenced by a decrease in overall CFARS score. He has been successfully discharged from services and has been able to maintain progress made in treatment.
Improving and Expanding:
To expand the program, we have recently hired a new full-time therapist who has already begun building her caseload and improving the lives of clients. Our team continues to collaborate with Care Coordination who can facilitate a warm handoff to clinicians both inside and outside of the program. To serve families in need, our Intake Care Coordinator has continued to engage with new referrals to provide psychoeducational and community resources to clients and families who are currently awaiting services.
In a group setting, the Pediatric Integration Program has implemented a psychoeducational group for teen girls experiencing symptoms of anxiety. As a result of this prevention strategy, all group participants no longer felt that their symptoms rose to the level of requiring mental health therapy services. At the individual level, a 7-year-old client was able to participate in a psychoeducational group about anxiety in which she was able to learn adaptive coping skills, how to reframe negative thoughts, and the impact of self-talk on feelings of anxiety.
Looking ahead, "we are excited to continue to expand the program by hiring more staff and collaborating with partners to fill the growing need for mental health services in our community", says Mackenzie Halley, Director of Pediatric Integration. In the future, we hope our model can be replicated across Florida and the United States to unite healthcare sectors and connect children and families with the support and services they need.
A special thank you to Palm Beach County Community Services Department, Quantum Foundation, and the Frederick A. DeLuca Foundation for providing funding to support this program.
Dr. Shannon Fox-Levine, President of Palm Beach Pediatrics