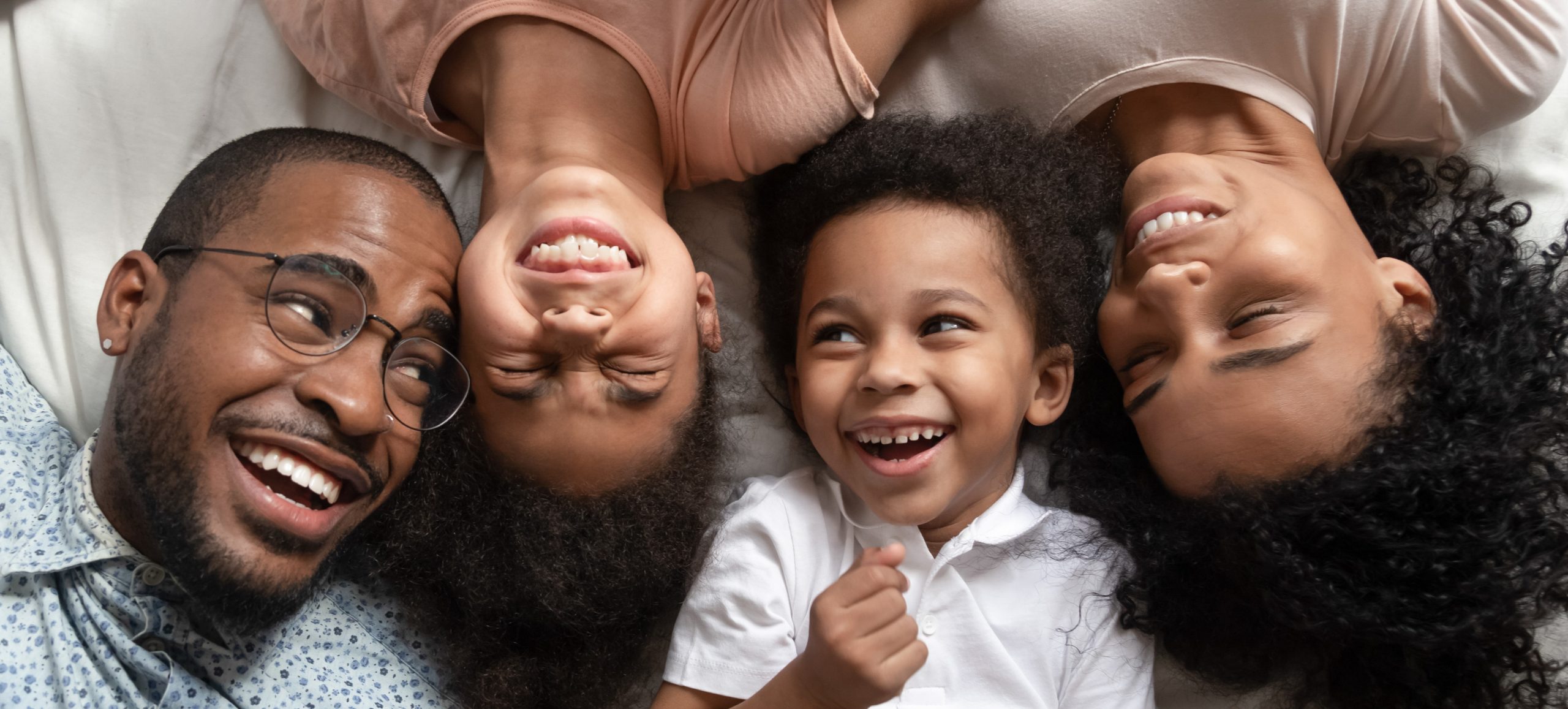 The color green, and indeed the word 'green', has come to mean many things to many people. The concept of planet-friendly packaging or renewable energy might spring to mind first. Green is also the color of greed and money. Green is a symbol of Ireland. For Shakespeare lovers, green is the color of the 'green-eyed monster' called jealousy. But for those of us who work in mental health, green is the symbol of May — Mental Health Awareness Month. We don our green shirts and all month long we communicate about the need to focus on our individual and communal mental health.
Mental Health and the Human Need for Connection
The Covid-19 pandemic has drawn attention to an issue that we have long known, children's mental health is fragile and needs to be protected. Educating the community and key stakeholders about the concept of ACEs (Adverse Childhood Experiences) is all about protecting the future mental health of adults by caring for them when they are children, by giving them the skills they need to build resilience, and by working as hard as we possibly can to prevent the kind of personal and community adversity that has lifelong physical mental health application implications.
Covid-19 has taken its toll on everybody's mental health. The results of the latest poll presented at the American Psychiatric Association 2021 Annual Meeting show that 43% of adults said the pandemic has had a serious impact on their mental health, up from 37% in 2020. Younger adults are more likely to report serious mental health effects. This pandemic is a once-in-a-century global event that even adults struggle to process and understand. How much harder must it be for little minds that have not yet developed enough to understand complex issues and also lack the perspective on which most mature adult wisdom is based. The National Alliance on Mental Health (NAMI) has focused on connection and a message of "you are not alone" for 2021's Mental Health Awareness Month. You can download a "Tools 2 Thrive" toolkit from Mental Health America's website. People are undoubtedly experiencing isolation and disconnectedness as a result of the pandemic. Countless thousands do not have the support they need to cope with the loneliness, fear, loss, and grief that Covid-19 has brought into all our lives. It may seem like a dark time and it is, but there are some encouraging and uplifting results that have come from the pandemic, too.
A Strengths-Based Approach
ACE studies conducted since the 1990s have, by their nature, focused on adversity. The original studies largely overlooked (or were not focused on) protective factors. The yin and yang theory of life (also called the 'unity of opposites' theory) suggests that everything in the universe has its opposite, so then adversity must have its opposite, too — in positivity or thriving. In recent times, there has been a strong shift in mental health towards focusing on strengths and on building resilience. This is not some Pollyanna approach to a dire situation, but a scientifically based and research grounded ideology.
It is interesting to note that working from a strengths-based approach is naturally anti-racist, pro individual, and pro equity. If we base all our interactions on the understanding that the struggles families face are unequal, we begin to see their individual struggles more realistically.
We should acknowledge that health outcomes (including mental health ones) are:
largely the result of entrenched systemic inadequacies
the natural consequence of an unequal investment in people's future opportunities
built on an agenda based on maintaining an equitable status quo
Once we see this, we begin to meet people where they are, and see them for who they truly are. We can then look to see what strengths are in place in their lives that are helping them and promoting resilience, and what attitudes and systems are in their way. A strength-based approach encourages people to focus on what they have and what resources are working for them rather than what they have lost or all the adversity in their lives.
Acknowledge the Bad; Promote the Good
This is not to say that negative circumstances and experiences should be ignored or not acknowledged, but rather that we can all build on what is good in ourselves and in our world. The more we focus on what is working and what strengthens and build us up, the more resilience we are likely to engender in ourselves and our children. Since resilience is the ability to overcome obstacles and thrive, its very definition accepts that times are hard and that adversity is an inherent part of being a human being. If adversity is a given, it is no longer something that is foreign, overwhelming, or to be feared. Adversity is a part of life that can be overcome. No doubt, some people's adversity and some children's traumatic experiences are far worse than others. Working in the field of mental health, we at Center for Child Counseling understand this fully. But it is also undeniable that talking about strength, positivity, self-determination, and personal empowerment facilitates positive change while focusing on the bad only seems to perpetuate more negativity.
Covid-19 changed the world. Naturally, the media has focused on some of the most extreme negative outcomes of this global crisis. Financial hardship, economic crisis, loss of life, an increase in substance abuse and domestic violence, and spiraling mental health issues are all consequences of the global pandemic and its associated lockdowns. So, you might be surprised to learn that there have been some very positive side effects of the crisis, too.
The Surprising Upside
In many cases, community engagement has actually increased. People have taken more notice of their neighbors. In many cases, people report an increase in feelings of compassion and empathy for others. A slower pace and a greater focus on home neighborhoods (due to many people working from home all day), has resulted in opportunity to get to know neighbors (albeit in masks while social distancing). In many homes, families have turned their focus back on one another, finding more time for each other, focusing more on the needs of their children, and finally achieving the goal of eating more family meals together, which studies indicate helps to build closeness and feelings of nurturing. People connected more using phone, text, or video chat, often with people they hadn't spoken to in years. Parents spoke to their children more, explaining the situation, answering questions, and simply expression compassion and love. It's exactly these kinds of positive childhood experiences that can set children up for a future of success and happiness. Isn't it ironic that it took a global health crisis for us to consider what being healthy really means for our children?
HOPE is the Word…and the Attitude!
It seems fair to say that the Covid-19 pandemic has resulted in HOPE – Healthy Outcomes from Positive Experiences. The HOPE organization promotes a fresh way of seeing and talking about experiences which is focused not only on adversity but rather on children's health, resilience, and positive growth so that they can become successful adults. The American Academy of Pediatrics (AAP) released its first in a series of reports called "Snapshots" after polling 3,000+ parents about their experiences during the pandemic. Surprisingly, while many of the findings were concerning, most people reported a deepening relationship with their children despite the stress and tension they were experiencing. The survey showed that families are more resilient and adaptable than we might have expected, so while we often focus on abuse, neglect, and dysfunction when discussing ACEs, the importance of employing a strengths-based approach when dealing with children and families is certainly being highlighted.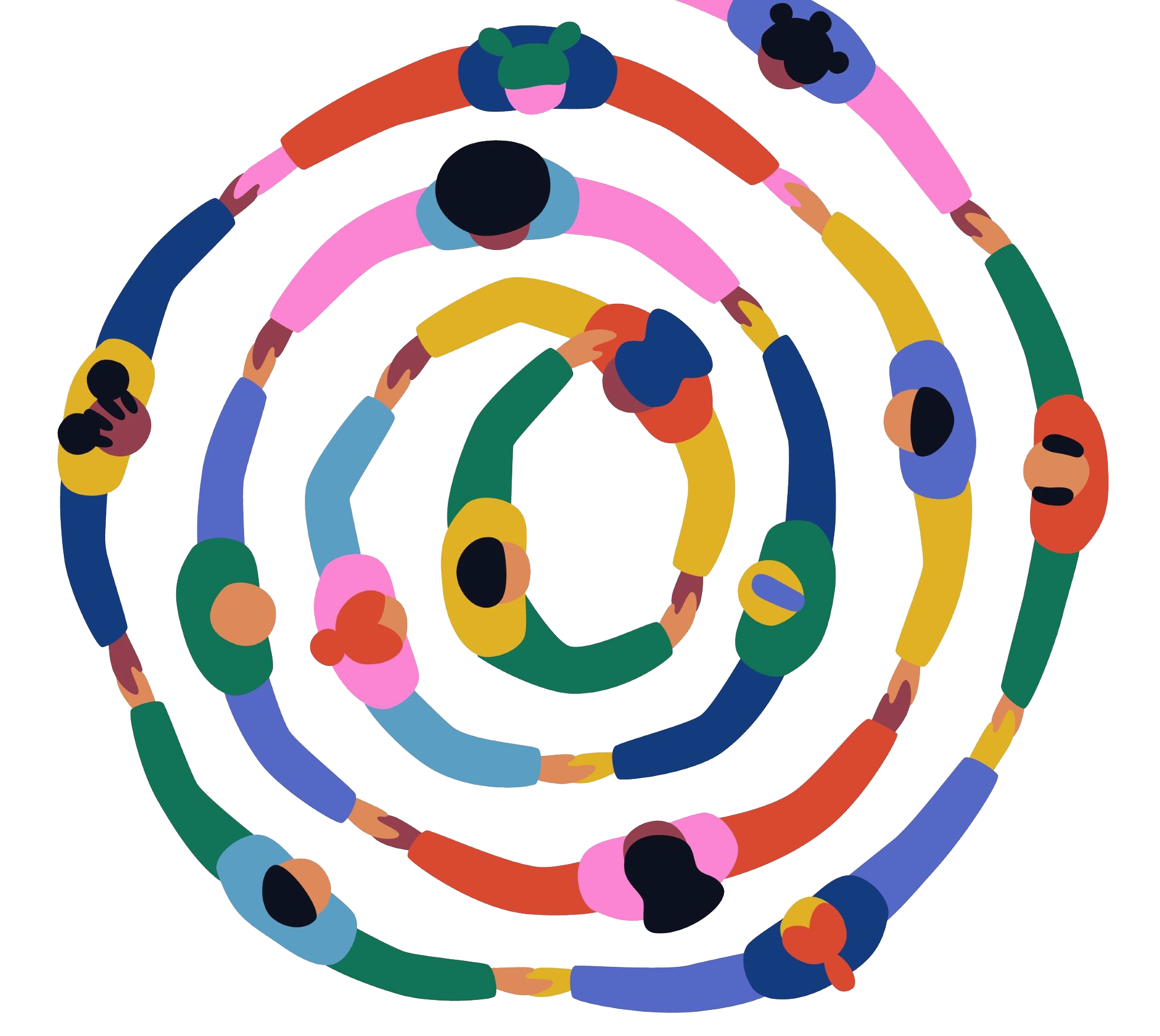 Strengthening All Influencers
Think of a child as existing in a series of concentric circles. The circle most immediately surrounding the child is made up of their family (parents and/or caregivers and siblings). It makes sense therefore to focus on the strengths of the entire family unit if we intend to strengthen the child. This is why we offer child, filial, and dyadic family therapy.
The next circle might be people the child encounters consistently, people like teachers coaches, neighbors, mentors, religious leaders, and extended family member. This is the circle described by the common African saying: "It takes a village to raise a child". These are the people who influence the child on a regular or even daily basis. It makes sense therefore to strengthen the understanding of people working in these fields as to childhood development and the need to be positive buffers against childhood adversity. This is why it makes sense for us to help educate teachers and other childcare professionals in areas like ACEs and healthy childhood development.
The next circle is the wider community. These people may not influence the child directly but they certainly have an influence on the atmosphere and environment in which the child is being raised. These people might include healthcare workers, public servants, law-enforcement officers, those in the court system, etc. How positive or negative this community circle is can deeply affect a child's future. You can learn more about this in our blog on Adverse and Positive Community Environments. This is why we work to train these specific sectors in the community with targeted, relevant educational tools aimed at their unique needs.
The outermost circle is the systems circle or the ('world-at-large' circle). This is the atmosphere of the times in which the child is living. It is not embodied by individual people but rather by systems-level influences. Is the child being race raised in an atmosphere of toxic racism or systemic violence? Many now suggest that racism itself is an ACE. This is why we advocate passionately for children's rights within wider systems.
If we can begin to positively affect every one of these circles through education, community action, advocacy, and social improvement programs we are echoing positivity inwards towards the individual child at the center of all the circles.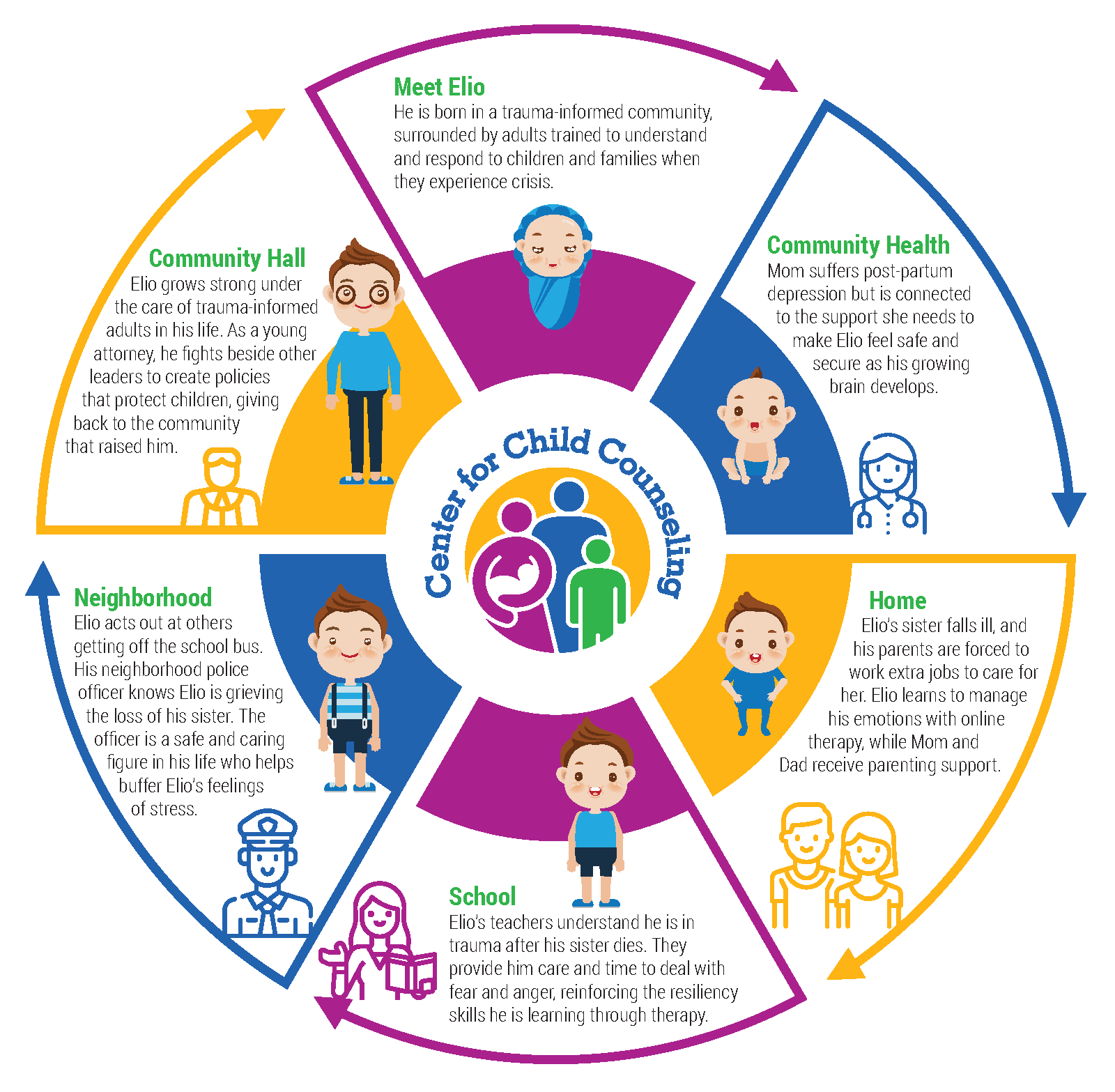 Our Role
As a key child and family counseling agency in Florida, one of Center for Child Counseling's most important roles is to ensure that people understand ACEs and their potential to cause lifelong mental and physical health issues. Our goal is to create trauma-aware adults who recognize and stop childhood trauma and abuse in its tracks, ensuring children grow healthy in mind and body.
Our therapists work with families affected by adversity and trauma every day; helping children heal if the focus of all our work. But we very much embrace a strengths-focused approach in our work to build trauma-informed communities. All our staff undergoes extensive training in ACEs education and recently we've taken strengths training based on Gallup's Clifton Strengths program at the leadership level and are working on cascading the learning to every staff member during the remainder of 2021. We also employ a TIEL (Trauma-Informed Equity Lens) approach to our work and our communications. We want to ensure we're bringing our best strengths to this fight, but everyone can play a part.
What You Can Do Now
Focus on interacting with the people you encounter, especially children, with empathy and concentrate on seeing them as unique individuals. Acceptance is key to your relationship with any child and to all successful relationships in life. You can learn more about building acceptance in our educational material "A Way of Being with Children: A Trauma Informed Approach to Building Resilience" which is a available in manual form and as an online training.
Wisdom tells us that we cannot control certain circumstances in our lives. The Covid-19 pandemic, for example, was beyond anybody's control or prediction. However, we can control the way we respond to these situations. In fact, that's sometimes all we can do. If we choose to respond with perspective, positivity, and even humor (where possible), we are coming from a place of resilience, and we can feel secure in the knowledge that we are providing our children with lessons that are making them stronger for life.


Sign up now for news, events, and education about Adverse Childhood Experiences (ACEs) and promoting resilience.