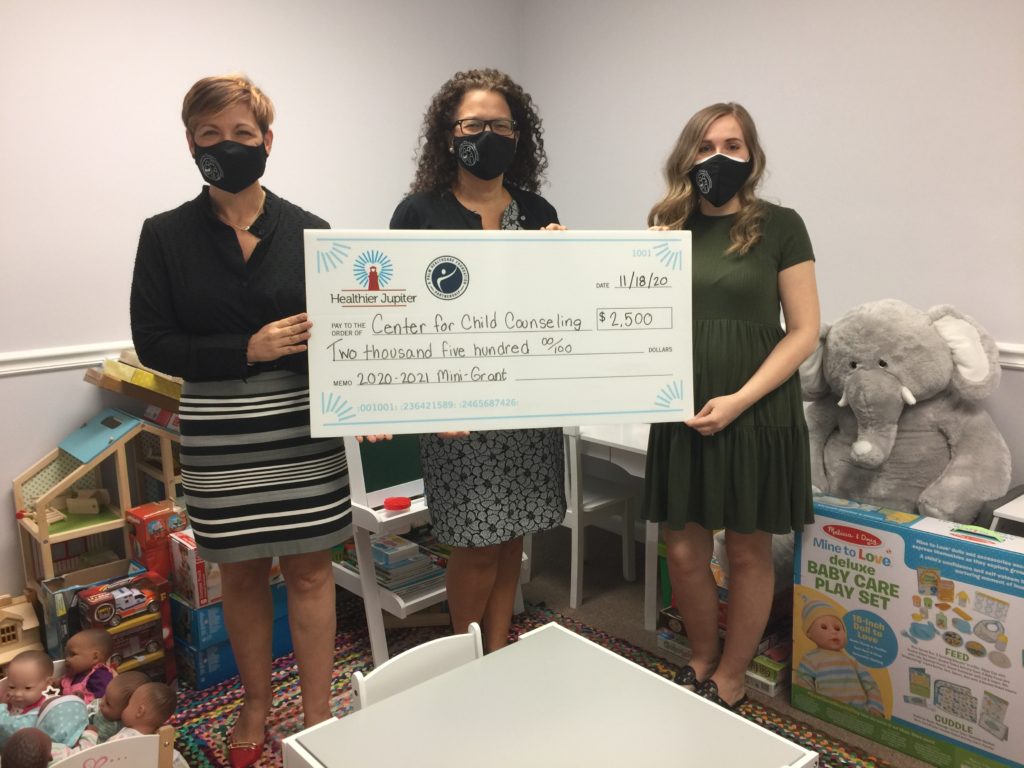 We Focus on Supporting the Mental Health of Our Therapists as They Help Others
WEST PALM BEACH, FL – November 20, 2020:
Center for Child Counseling (CFCC) is pleased to announce that we have received a $2,500 mini grant from Healthier Jupiter to support their innovative and responsive "Healing the Healers" online learning series. These topical workshops have been specially designed to support frontline mental health therapists at the organization, which provides mental health services to children and families in Palm Beach County, particularly those who have experienced trauma. This is taxing working requiring intensive expertise and compassion and mental health professionals need support so that they can, in turn, effectively support their clients.
Workshop topics include Stress, Burnout, Compassion Fatigue, Secondary Trauma, Burnout and Trauma Among Black Healers, Symptoms of Burnout, The Biology of Burnout, Self-Care, and Self-Care Strategies.
The Healthier Jupiter grant will fund ongoing development of a series of online workshops using CFCC's learning platform. The workshops are designed to encourage self-care, support mental health, and decrease burnout in helping professions. Piloted and designed in 2020 to support the 55 therapists at CFCC. With additional funding, the series will be available for other helping professionals in Jupiter, throughout Palm Beach County, and beyond.
Burnout is a long-term reaction to occupational stress which involves, particularly, helping professions. Burnout can be caused by secondary trauma, compassion fatigue, stress or moral injury. According to several studies, it appears that up to 67% of mental health workers may be experiencing high levels of burnout, with significant impact of COVID-19 to be determined. Leading researchers anticipate an 'echo pandemic' of mental health issues long after the physical pandemic has passed. We will see increased incidences of depression, anxiety, and suicide, escalating the demand for healers and helpers who are supported and mentally healthy themselves to serve a community in the aftermath of the pandemic.
To learn more about this grant, please contact dominika@centerforchildcounseling.org.
Background:
Healthier Jupiter's Mini-Grant Program: For the fifth year in a row, Healthier Jupiter will offer $2,500 Mini-Grants to impact the health of our community. The goal of the Mini-Grant program is to fund projects that address healthy eating, active living and mental health in new, innovative and community-centered ways. These projects will create lasting and transformative change in the health, wellness and success of the greater Jupiter community. Not-for-profits, government agencies, civic organizations, public schools, school-based groups, houses of worship, businesses and individuals are encouraged to submit applications. Healthier Jupiter is part of the Palm Health Foundation's Healthier Together Initiative, a long-term, community-driven approach to solving a community's complex healthcare issues.
Founded in 1999, Center for Child Counseling supports children, families, and caregivers through direct services focused on preventing and healing the effects of Adverse Childhood Experiences (ACEs) and toxic stress, building positive relationships that buffer the impact of trauma. Research shows that toxic stress in childhood is directly linked to negative physical and mental health outcomes. Thousands of children in Palm Beach County experience stressful life events that will impact them for a lifetime without intervention. In 2019, Center for Child Counseling served over 3,800 children through six clinical programs and provided training for over 3,500 professionals, students, and caregivers to build adult capacity to meet the social-emotional needs of children. www.centerforchildcounseling.org/
Social Media:
Twitter: @ChildCounselPBC
Facebook: @CenterforChildCounseling
YouTube: Center for Child Counseling
Instagram: childcounselpbc